Flag football: Senior girls break their winning streak
This article is meant to be a joke; however, it does tackle a real-life issue.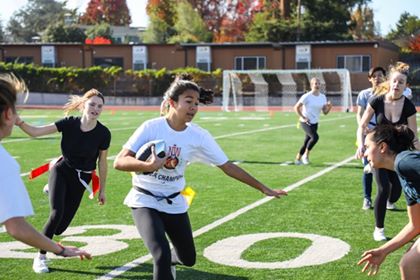 The two-time reigning champions of girls flag football—the senior class of 2020—experienced the most devastating loss of their career on Thursday, November 21, when they were snubbed from the championship game by the sophomore class of 2022. The results of this game have led to an uproar from the seniors as some claim the game was rigged against them.
"The sophomores kept delaying the game because they couldn't find flags for the quarterback (QB) and the clock doesn't stop, so five minutes of the first eight-minute half was wasted," senior Hugo Biczek said.
ACL tear survivor and senior class president Kayla Brinkman was not only upset but also confused by the challenges the sophomores continued to have with the velcro belt.
"We lost so much time because the sophomores couldn't figure out how to put a belt on," Kayla said. "Little kids, they don't even know how to dress themselves, I don't understand."
Unable to clip the belt to themselves, many were tying the belts to their waist therefore making the flag unable to be pulled off. Princeton soccer commit and star player senior Kayleen Gowers attested to this by describing a struggle she witnessed between senior Jennifer Kuramoto and a sophomore.
"At one point Jennifer basically tried to pull the entire belt off and it still didn't come off," Kayleen recounts.
In addition to the issues surrounding the velcro flag belt, there was a clear rule violation that went unaccounted for: only three people can rush the quarterback at once.
"The sophomores had five people rushing, which is illegal," Kayla said.  "[Senior] Michelle Odnert told the referee this and he goes, 'Oh, I guess you're right, let's just keep going though,' and then when the sophomores were back on offense, they got a touchdown."
Princeton soccer commit who ranks second in the state and 47th in the country, is an active member of the National Honor Society, a frequent church goer, extremely handsome, the backbone of SCL and has a jawline you could measure with a protractor senior James Wangsness—robbed from winning Homecoming Senior by a guy who once used a Snyder's pretzel as a hoolahoop—is embarrassed by the seniors lack of athletic capability they've shown thus far.
"Senior season has really done me dirty, ya feel me?" James asks. "I heard from some of the sophomore teachers I live with that the class of 2022 is the worst class to ever slide at Los Altos, no cap."
PE teacher Kiernan Raffo refereed a few of the games last week and can affirm James's claim as she describes a problem she's been facing with the sophomore class.
"I'm still waiting on 90% of that class to pass their California fitness test," Raffo said.
Ex-rower senior Sam RusselHapp, in a move that can be compared only to Italy during World War I, was in charge of organizing the game and took the side of the sophomores.
"There was one controversial play and the seniors just wanted to win, so they used the play against the whole game because they were upset they didn't win," the traitor said.
Future Division 1 athlete and Princeton golf commit senior Caris Kim felt she herself was robbed from a victory as she spent the duration of the game on the sidelines waiting to be put in, but never saw that fate.
"They didn't allow a D1 athlete to play on the field for one second and I think that was part of our downfall, too," Caris said.
Some argued that Caris's golf skills would be of no help in a game where skill is largely based on athleticism.
"That is discrimination, they thought a golf player couldn't run," says Kayla in regard to Caris being the benchwarmer.
However, the person who was robbed the most was senior Doran Tavrow, who bet all of his college savings on the senior class winning.
"I put my heart in a bag, but they let it get hurt," Doran says. "I put my money on D1 athletes and Homecoming Queen Kayla Brinkman, and they lost to a team that has yet to fulfill their PE credits."
Members of the senior class have lent a helping hand to Doran as he tries to make it through this tough time.
"Doran's parents kicked him out ever since he lost the money, so he's been crashing on my couch," senior Conner Kendall says. "All he does is lay around all day, listen to that sad song from "Up" and watch the 'my 2019 (so far)' Tik Toks."
According to Doran's peers, he was not the type of person to experience failure.
"Ever since I saw him sit on the bench on the freshman basketball team, I was convinced he was destined for great things," college application process commit senior Jack Chmyz recalled. "This is just so sad. I can't help but get emotional when I think about it."
In the end, however, members of the sophomore class admitted to the unfair advantage they had in the game and sent their condolences to the robbed class of 2020 and most importantly, our father figure Doran Tavrow.
"I think that [the seniors are significantly better and deserved the win because they are all around better athletes and show better sportsmanship, whereas we cheated by wasting time, had more than three people rush the QB, and tied our belts so they couldn't get pulled]," sophomore Aida Yezalaleul said.