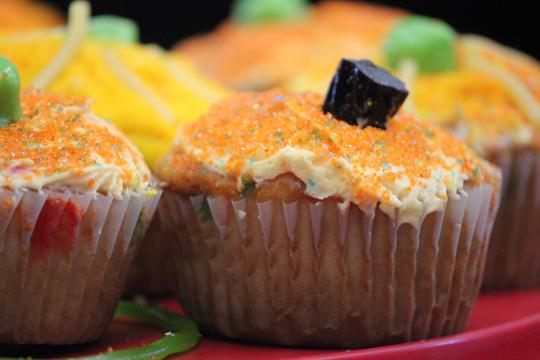 [Photo by Jade Perry]
No season is complete without its complementary foods, and fall has plenty of them. However it's not always that easy to find simple and fun Halloween foods, so here are few suggestions.
Caramel Apples:
Caramel apples have always been a classic Halloween treat for people of all ages. This year, turn a basic caramel apple into a unique and exciting Halloween sweet that gets everyone pumped, whether that means going out to trick-or-treat or stay at home and lounge with your friends. The easiest way to do this is by dipping the apples directly into caramel. I recommend buying the hard caramel and melting it over your stove. Also, try using Granny Smith green apples to balance the sour and sweet from the caramel. After you have made the caramel apples dip them Halloween sprinkles to make them more festive. For a fancier look, melt orange or black-dyed white chocolate and drizzle it on top of the apples. After this, lay them out to dry and enjoy!
Ingredients: apples, caramel, sprinkles, white chocolate, dye
Story continues below advertisement
Popcorn Balls:
Popcorn balls are a fun and festive way to turn an ordinary movie night into a Halloween spectacular. Plain popcorn can be instantly turned into something special for Halloween by adding a few more ingredients. All you need is sugar, margarine, plain-popped popcorn, marshmallows, light corn syrup and a litttle bit of water. To make this treat more appropriate for Halloween, mix in some candy corn. If you want to make the treat even more festive, add orange dye that will make this dessert suitable for Halloween.
Whoopie Pies:
With a specialty chocolate cake bottom and top (recipe can be found at the link attached) and a creamy buttercream frosting center, whoopie pies can easily be turned into a Halloween specialty. Simply dye the inside frosting orange and use a frosting pen to draw a spider web on the top of the pie. To draw on the spider web, cut a small hole in the corner of a ziploc baggy and squeeze the frosting out of it and onto the top of the whoopie pie. These pies are easy to make and will serve well for Halloween.
Cheese Pizza:
If you are looking for a less sugary option to make this Halloween entertaining, this twist on cheese pizza is perfect! To create these decorative dinners, you need pizza dough, mozzarella cheese, cheddar cheese and tomato sauce (optional). These basic ingredients can be turned into something different by changing the appearance slightly. When laying the cheese on the dough before baking it, put the cheddar near the top of the crust and the mozzarella in the middle, making a definitive line between the two colors. Make sure that your pizza is round, otherwise it will lose the effect. After the pizza is out of the oven and sliced, it will look like candy corn.
Ingredients:mozzarella cheese, cheddar cheese, pizza dough, tomato sauce
Cupcakes:
These cupcakes in the shape of pumpkins will not only be a tasty dessert, but also the perfect centerpiece for your table! What you need is: regular sized cupcakes (any kind will work, so pick your favorite), orange sprinkles, orange frosting, green licorice twists and green and orange licorice lace (Kellogg's fruit streamers work really well). Once your cupcakes have been baked and cooled, frost the tops with orange frosting. Roll these frosted cupcakes in orange sprinkles, completely covering the tops. Then, use the licorice lace to create lines across the tops of the sprinkles, similar to what a real pumpkin looks like. In the center of the cupcake, place a previously cut piece of the green licorice twist to look like the stem. If you want to, add some green licorice lace to look like vines on a pumpkin. Remember, there is no wrong way to do this. Be creative and soon you will have a cupcake pumpkin patch to decorate your table with!
Ingredients:regular sized cupcakes (any kind will work, so pick your favorite), orange sprinkles, orange frosting, green licorice twists, green and orange licorice