Fight brings police, paramedics on campus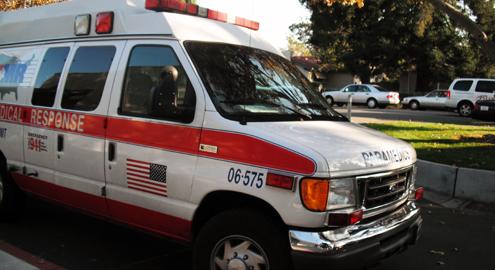 Paramedics arrived shortly after the fight.
A fight broke out around 2:50 p.m. yesterday, Thursday November 12, in front of the horseshoe drop-off area at the school. According to a police officer, at least two girls, one an LAHS student and one not, were involved in the fight.
One anonymous male freshman said, "The two girls … basically started swearing at each other."
One of the two then "started punching [the other] in the face," the freshman said. He said the girl then "ran off" toward San Antonio.
The fight lasted roughly three minutes, according to the observer. One girl ended up "on the ground," said sophomore Liz Milner, who also witnessed the fight.
Numerous observers said that the fight was related to a break-up.
A fire truck, police car and ambulance were on campus and one girl was placed on a stretcher.
"I turn around and I see [Security Liaison] Heidi [Galvez] and [Security Liaison] Genaro [Quintana] running towards some person," senior Haley Bridges, who witnessed the aftermath of the incident, said. "And then I see [Principal Wynne] Satterwhite running towards … a girl lying on the ground."
According to Haley, Assistant Principal Cristy Dawson pulled one teen aside for questioning.
"We're investigating," Assistant Principal Seth Leslie said. "[The staff wants to] ensure the safety of all students."
Leave a Comment