Field Hockey, Volleyball Start Strong
Both the girls varsity field hockey team and the girls varsity volleyball team lost many seniors from last year's graduating class. The teams are doing well despite the lack of seniors.

Field Hockey
The school's field hockey team was shaken up by the loss of 11 seniors. According to new coach Kiernan Raffo, who has had experience with multiple Division I college field hockey teams, "CCS is the goal."
Even though field hockey is in the upper division, the school has built a good foundation from previous years.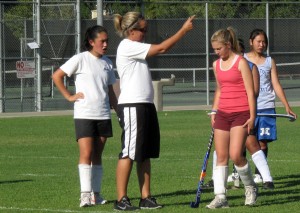 "If the seniors did anything for us, it was that they continued to build on the good reputation as a competitive program so more people are interested," Raffo said.
The team had tryouts this year, a change from years past. Normally the team does not cut players, but the need to cut arose from the large participation this year. Forty-two girls tried out, and 8 were cut to make a team of 34. Only four of the members are seniors.
Despite the challenge of having a young team, members are optimistic that this season will be in their favor.
"I think it's going to be hard due to our losses," junior Julia Sauerhaft said. "If we all work together and work hard then we're
going to be able to do well this year. People are stepping up into new positions and learning how to play positions they might not have been used to playing before."
The new captains, seniors Beth Lytle and Katherine Portelli, provide the team with needed unity in the upcoming season. Currently, the team is focusing on learning to function together, which was its greatest challenge in a 1-0 overtime win over Live Oak on September 9.
"We're transforming it from an individualized player game to a passing game," Katherine said.
Team unity is also being stressed, with JV and Varsity practices being held together this year.
"Since we have new people in the starting lineup, they're not as comfortable knowing where everybody's going to be on the field," coach Mary Donahue said. "Not only do you have to work on your skills, but you have to work on the passing game, covering and that team chemistry."

Volleyball
The girls varsity volleyball team also lost six seniors. Five of those six were starters.
According to coach Jason Kennedy, the team will try to overcome this difficulty with "a lot of new talent."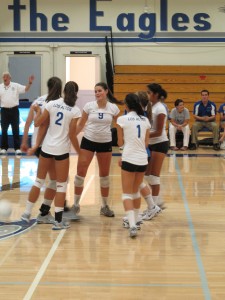 "We have certainly girls in here that can come in and make a difference right away," Kennedy said. "It's just going to be able to see whether or not we can build on the program.
The team posts a winning record of 8-2. The team plays in the competitive De Anza division, but Kennedy says it has a good chance of doing well.
Kennedy stresses that the league is even and looks forward to matches with Palo Alto High and Mountain View High.
"I think the league will be fairly similar to last year," Kennedy said. "It'll be up and down; anybody can beat anybody on any given night."
According to senior Anjali Mehta, the team has been practicing "a lot more skill work" than regular varsity teams might expect. The team is feeling "pretty confident" based on its successful preseason and is looking forward to the upcoming season.
"At the beginning it took a lot to get everyone back to the game and to work with each other, but it's starting to work out really well," Anjali said.
Leave a Comment