Field Hockey: New Season, New Team but High Hopes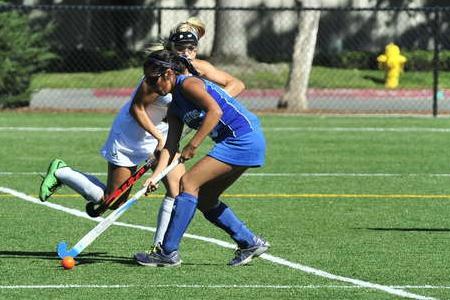 Just like many other teams re-entering the field this fall, the girls field hockey team has seen its fair share in experienced seniors leaving the team after graduation. The girls lost nine players, which was half of the varsity team. It has been a shock to the team, which, after a tough season last year, is looking to not only rebuild but improve and push toward new levels of success.
"We lost enough seniors to field a game, which means a lot of players," junior Charlize Zuraek said. "And they were all strong, experienced players. That being said, we still have strong seniors, juniors and sophomores this year."
The field hockey team, which has had an influx of new players trying out in the last couple of years, is investing a considerable amount of faith in the new recruits.
"Instead of crying about the skills we will be missing, I feel like we are trying to work together and work individually to get those skills," senior Nusly Zuniga said. "[All the new players] are kicking butt when it comes to learning the sport… Losing [the seniors] will have some toll on us, but that only encourages us to develop as a better playing team and as individual players."
Last year, the field hockey team had more new players than they had ever seen before. In fact, the team known for being a no-cut sport at the school had to consider dropping players from the team, as they feared overexpansion. At first, they decided to make no cuts as usual; however, a year later, accepting each beginner has proved to have a heavy pay-off.
"We had a lot of underclassmen play and show interest last year on the JV team, which is great because it means more returning players this year," Charlize said.
Last year, the field hockey team struggled with a series of defeats. However, they have made it their focus to identify their weaknesses and target where they need to grow. They are well aware of what it is that they need to strengthen and fine-tune.
"The results of last year's season were not necessarily desirable," Charlize said. "Although we were strong defensively, we struggled with finishing out our offensive plays and shooting. I think that will be our main focus this year."
Not only are the girls rebuilding strategically, but they are also getting in shape physically in order to prove themselves in this upcoming season.
"I know we have a lot of fitness training ahead of us this year," senior Adera Ahern said. "One thing that hurt us a lot last year was our fitness level. We had girls gassing out early in our games and we had to work around it. We have set workouts and trainers coming to help keep everyones fitness in check."
The girls have formed a particularly tight-knit bond of warmth, support and encouragement of each other and of the team as a whole. Throughout their seasons and practices, from 3:45 to 6:00 p.m. each day, they hope that their camaraderie and belief in one another will guide them to triumph this season. The team, part of the SCVAL league, is ready to impress on August 28 when they have their first scrimmage against Monta Vista at home.
"I have no doubt we can accomplish our goals and finish the year out with a successful season," Charlize said. "Thankfully, this years' players all have a lot of heart and an incredible work ethic… I think playing with a more aggressive offense and just having a great time together would make a successful season in our eyes — although winning is always nice."
Leave a Comment