'Fiddler on the Roof' Announced as School's Next Drama Production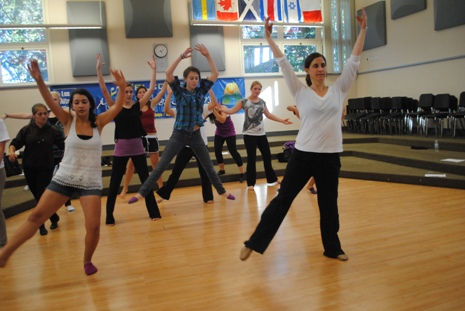 ---
At the informational meeting held on Wednesday, September 22, it was announced that this year's school musical will be 'Fiddler on the Roof.' This school-run performance, separate from Broken Box and individual performing art classes, is put on every other year by Choral Music Director Mark Shaull, drama teacher Nancy Moran, dance and English teacher April Oliver and band and orchestra teacher Ted Ferrucci.
Auditions were held at 3 p.m. after school on Monday, October 11 and Thursday, October 14. Oliver said this year they are looking for a smaller cast of only 30 people, so they tried to spot "triple threats," students who can sing, dance and act.
"Personally, I am looking forward to working with a smaller group than in years past because it will give me more one-on-one opportunities to help students develop realistic characters and create poignant moments that will really touch the audience," Moran said.
Before auditioning, students learned one solo song and one chorus song in either Girls Glee or Varsity Men's Glee. Those who auditioned said that because music was taught beforehand, the proccess ran more smoothly.
On the first day of auditions, about 55 prospective performers reviewed music, read through scripts, practiced lines and learned dance choreography. They showcased these skills in the evaluative part of the audition, which began with rotating groups, allowing each student time on stage to perform the rehearsed material.
Although the rehearsal schedule is not finalized, practices will take place between Wednesday, January 5 and Wednesday, February 2 three days a week, with the addition of Saturday practices. Singers will have their own sessions during lunch, while actors and dancers will meet during zero period. Extra rehearsals for soloists will be added after casting based on prior commitments of the cast.
The musical, which opens on Thursday, February 3, renews the classic tale of "The Fiddler on the Roof" based on the book by Joseph Stein. The story takes place in Czarist Russia and centers on Tevye, the father of five daughters, and his attempts to support his family and maintain his religious traditions while outside influences encroach upon their lives. He must cope with both the strong-willed actions of his three older daughters—each one's choice of husband moves her further away from the customs of her faith—and the edict of the Czar that evicts the Jews from their village.
As this year's musical date draws closer, Moran anticipates that a high school twist on this classic tale will promise entertainment and fun for both the cast members and the audience.
"For those students who earn a place in the cast, this will be an amazing experience," Moran said. "They will bond in a very unique way by creating a great piece of art."
Leave a Comment