Felipe Chavez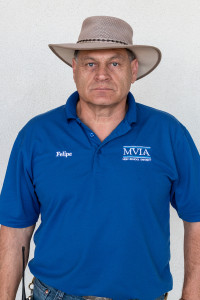 If you are ever at school early in the morning and hear whistling throughout campus, you are most likely listening to Felipe Chavez. Originally from Atenguillo, Mexico, a small town between Guadalajara and Puerto Vallarta, Chavez lived with his mom, dad, four sisters and six brothers.
"I had a wonderful life because my town is small, so you could go anywhere you wanted," Chavez said. "It's just land there, you see cows, horses, chickens, all that stuff…I was very poor, but I got everything. I had the basic things: clothes, food, and I had fun. I liked it."
Though he loved his life in Atenguillo, Chavez decided to move to the Bay Area because it would provide him with more opportunities than he had at home.
"I was poor…And when you start to grow up, you start to look for more things, like you start to look for girls," Chavez said. "You want to take the girl to the dances, to the movies, but you don't have money to invite her. I said, wait a minute, what am I doing, what am I going to do? I said, okay, I'll go to the U.S."
He moved to the Bay Area in 1976 and joined one of his older brothers in Sunnyvale, where he met his wife five years later. Chavez and his wife have four children together, who all attended Mount Pleasant High School in San Jose. His oldest children, twin boys, age 32, served in the military; one served in the U.S. Marines and the other in the U.S. Air Force, both for four years. His third son, age 28, lives in the Bay Area and has worked at Stanford University for the past six years. His youngest child, a daughter, age 18, is in her final year of high school.
As for his profession, Chavez was first offered a custodian position in the MVLA District when he was at the school doing a paint job. He had been working for himself for several years, and though he enjoyed painting, the work was full of "ups and downs."
"I never thought I'd do this kind of job, but one day I was working and…the guy who was in charge of [custodian positions]…convinced me, and now I'm here," Chavez said.
When he started as a custodian for the MVLA district in 1995, he worked for both Los Altos High School and Mountain View High School and ultimately decided that LAHS was his favor- ite location of the two.
"It feels so good to work here," Chavez said. "I like it. You walk and work, and you feel free."
As a member of the school's custodial team for nearly two decades, Chavez has witnessed many changes in the school, especially in the overall atmosphere of the students.
"I see the students, they're [happier], they're always talking," Chavez said. "I see the parents when they come to the meetings, and when they ask me questions, they're always smiling…. Everybody's more happy."
Chavez has stayed in this job for so long for a simple reason: he loves his job.
"I love it," Chavez said. "All the administra- tors are so nice to me and so I stay. And also the kids, you know, I know most of the kids, not by their names, but I know them by their faces… I'd like to stay here as long as I can because I love my job."
Just as Chavez loves his job at the school, he hopes to encourage students to find a job that makes them happy.
"I would tell students to prepare for the fu- ture," Chavez said. "Study, go to school, do as much as you can for whatever career you want."
Leave a Comment