Feldman's Books: The literary oasis of Downtown Menlo Park
In the middle of bustling and rapidly developing Downtown Menlo Park, Feldman's Books is an oasis. With maze-like shelves and stacks of books three feet tall lining the floor, Feldman's is a book lover's dream. It's easy to lose track of time and spend hours aimlessly wandering throughout the store's two main rooms and gorgeous outside reading patio.
The bookstore, situated in a century-old building on El Camino Real, was established in 1996 by brothers Jack and Steve Feldman. Originally started on a whim, Feldman's has amassed quite a dedicated customer base.
"I had no idea whether it would work or not," Jack said. "But people seem to like books, and 24 years later we're still here."
Before the COVID-19 pandemic, it was common to find customers spending hours of their day with their noses in books and sitting in the cushy chairs scattered around the store. The shop exudes comforting and homely vibes through its dim, warm lighting and tightly packed shelves of classics and second-hand favorites alike.
Book lovers flock to the store for this experience — one they can't get anywhere else now, as Feldman's is the last used bookstore still managing to keep its doors open in Menlo Park. Once extremely popular in the area, used bookstores have gradually dwindled out as e-readers, online shopping and chain bookstores have started to dominate the industry.
Yet, there's something magical about Feldman's, a certain je ne sais quoi that comes with its curated collection of first-editions and books hundreds of years old coupled with the store's signature old-timey feel. The books at Feldman's have a history — twenty years of business have ensured that browsers will discover hidden treasures they wouldn't otherwise find through a simple Google search.
On a recent stop-in at Feldman's, I was greeted by a young man engaged in a passionate discussion about literature over Zoom with a few of his friends. As I wandered through the stacks of books, hearing his faint conversation about Jane Austen and Henry James created quite the background ambiance.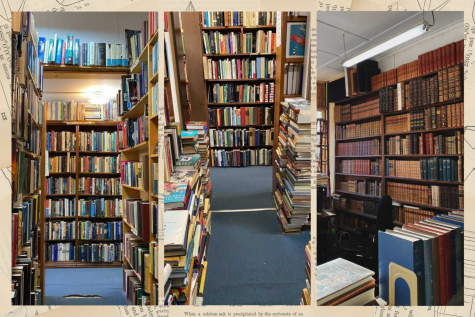 When I went to check-out, he was quick to converse with me about the books I chose and even handed me a book for free because he thought I would be the type to enjoy Virginia Woolf. It's lovely moments like these that exemplify Feldman's emphasis on fostering a personal connection between patrons and literature.
Even though the store has managed to keep this enchanting literary world alive during the pandemic, Feldman's is in trouble and faces likely closure. In the Bay Area, rent is rapidly increasing, and Feldman's just can't keep up. The store is threatened by destruction as plans move forward to build new apartments at its current location.
Jack has tried his best to save the store, and the community has rallied in an effort to help the fight through online events and fundraising, with one petition to save the store getting upward of 800 signatures. But even with everyone's best efforts to keep the sign on the door, the bookstore's future is still looking uncertain.
Despite the uphill battle, Jack is prepared for any outcome and determined to continue providing a space in the community for book lovers.
"We're hoping to have an alternative to an apartment house," Jack said. "Books or maybe other things, music, a café, tutoring, poetry readings — something more for the community. People really love the bookstore, and I'd want to keep it going in one form or another."
As for the future of used bookstores, Jack believes that there's still a place for them within the community. Even if they diminish in number, there are still a handful of fighters left preserving something authentic.
"Books are real, you know?" Jack said. "They're something you can hold and touch and look at, unlike a lot of the virtual world today."
Small businesses like Feldman's are a wonderful form of human connection and seeing them persevere in the face of online competition, commercial development and quarantine is heartwarming. It's cheesy, but I'd encourage everyone to support local businesses during the pandemic — look around your area, and you might find a hidden gem.
Feldman's currently has an ongoing petition to save the bookstore and the heritage avocado tree in its backyard! You can learn more about them at their Facebook page.
Leave a Comment