Featured Alumna: Carmen Annevelink
Carmen Annevelink '15 graduated last year, leaving the school with many notable achievements as a four-year starting varsity volleyball player. She helped bring varsity girls volleyball to three consecutive CCS Division II finals, and earned the team SCVAL award of most valuable player as a junior and senior.
The 6-foot-2-inch outside hitter is now a freshman at the University of California, Berkeley playing Division I volleyball. She intends to major in integrative biology by taking math, chemistry and biology core classes.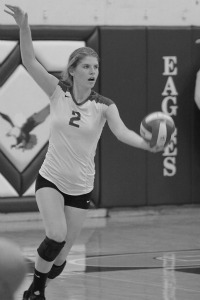 "The transition to college is both hard and easy volleyball-wise," Annevelink said. "The level of play is a huge step up in the Pac-12, so I have to step up my game. The schedule is much more rigorous and you really have to be on and ready every day and give everything you have at every practice. As a freshman, I have learned that you have to prove your self not only to the coaches but to your team and to the conference."
Halfway into her freshman season, Annevelink has made major contributions to the team, recording a total of 124 kills, 27 digs and 18 blocks in 53 sets.
"Cal has been great," Annevelink said. "I love the city, the classes are hard and the volleyball is taxing — but it is all I could have asked for and I'm enjoying every second."
Leave a Comment