FBLA Sends Five Members to National Conference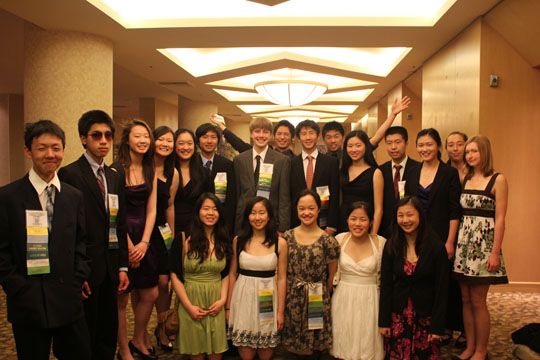 Twenty-six members of the Future Business Leaders of America (FBLA) club attended the State Leadership Conference (SLC) at the Hyatt Regency Irvine from Thursday, April 19 to Sunday, April 22. The chapter placed ninth in California, and five members qualified for the National Leadership Conference (NLC) in San Antonio, Texas.
SLC is an annual spring event where members elect state FBLA officers and are administered the state competitions that determine who will represent California at NLC. FBLA members who qualified at Bay Sectionals spent the four days meeting, competing and networking with other high school students from around the state.
FBLA members competed in categories such as Entrepreneurship, Business Ethics and Management Information Systems. The majority of teams placed in the top ten and twenty-one students placed in the top five. As a result, the school became one of the top ten chapters in California, the top ranked state in FBLA.
"I think we did outstanding," FBLA adviser Michael Messner said. "If you look at how we've progressed just in comparison with what we did a year ago in terms of our achievement, our scores, the number awards we took, the number of people we sent to the conference, I think we hit it absolutely out of the park. There are very few things we could have done better."
As a result of the chapter's completion of state level projects such as Financial Literacy, Go Green Individual and Chapter projects, Leaders in Action, Mission Lift and many more, the chapter qualified to be a Gold Seal chapter—an award reserved for the top 20 percent of California FBLA chapters.
The Entrepreneurship team and the Website Design team placed in the top two this year. This qualifies them for the NLC where state winners will compete against each other in various competitions. A combination of past experience and hard work contributed to the chapter's achievements this year.
"Even people who are brand new to FBLA put in a lot of work and found out that it pays off and found out what else they need to do at the same time," Messner said. "So I would say [the reason for our success] is the legacy, knowing that we've been successful, and capitalizing on it with the work ethic we've had all along."
FBLA Director of Projects junior Jerry Liu won second place in Website Design with team member junior Wilson Chen this year and will (along with Entrepenurship team members senior Jasmine Xu, freshmans Michelle Deng, and Alison Mock) be one of the five members representing the school at Nationals.
"I jumped up on the stage because I was so excited because I got to go to Nationals," Jerry said. "I'm really proud of what we've done. We as a team got to represent FBLA. And we got to send another team to Nationals and that contributed to our chapter's prestige."
In addition to state competitions, SLC also offers workshops and presentations that give attendees leadership and business career development training.
"The conference in general was really fun," FBLA Vice President of Operations junior Emily Cheng said. "There are constantly activities to do. The competitions you could always go and watch other people's presentations which was really interesting… In general, there is a lot of networking with a lot of other students and there was a really great speaker called David Kim. He was just really inspiring."
Leave a Comment