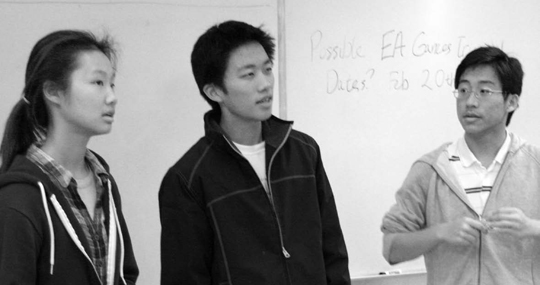 Club officers sophomore Jasmine Xu and juniors James Li and Caleb An (left to right)
lead FBLA club meetings during lunch on Mondays in room 311 or 312.
Taking multiple interviews, tests and presentations in one day while being observed by a line of judges may not appeal to most, but the Future Business Leaders of America (FBLA) participate and enjoy putting their hard work to the test.
FBLA is the nation's largest business/career student organization that has been represented in the school for two years. It gathers students, both male and female, with the similar interests in business.
"The main thing that I like about FBLA is that it really opens a series of business opportunities for high school students," sophomore Jasmine Xu said. "It's generally hard to find an internship or actually receive exposure to the business world, but with FBLA, it's sort of a 'short cut' in essence."
The club has high hopes for future years, including the plans for impacting the school community, in addition to its business targeted goals.
Story continues below advertisement
"In the larger chapters, [such as] Monta Vista, Lynbrook and Live Oak, FBLA often helps sell tickets at school sports games, teach their peers about business and many other things," Jasmine said.
While learning and promoting business, the club also gives back to the community. FBLA's most charitable annual cause
is the March of the Dimes, an organization aimed at the improvement of the health of infants by preventing birth defects, premature birth and infant mortality.
Expanding from 8 members to 31 members this year, the club hopes to improve all aspects of the club, including funding.
FBLA meets in room 311 or 312 every Monday. Advised by social studies teachers Derek Miyahara and Michael Messner, the team prepares for its nearing competitions. Members also discuss the pros and cons of business ventures and have lately been striving to achieve the Future Award, awarding chapters and individuals with certain criteria.
FBLA's first competition will take place on Saturday, February 27 at Lynbrook. At these competitions the club competes with other schools around the nation in business- related tests such as mock interviews, presentations and more. At the competitions there are dances and other fundraisers that contribute to the March of the Dimes.
Junior James Li enjoys the skills he acquires as well as the friends he has made.
"I joined because I was interested in business and wanted to learn more about it," James said. "Meeting people from different schools is really fun. Basically the social aspect [is my favorite]."