Fall-owing Eagle Sports
By Cameron Cox, Ethank Ruyak, Allison Bricca, Elana Eisenberg, Emily McNally, Amid Najmi, Barrett Wong, Marie Godderis, Mayu Alten, and Parisa Larson
October 12, 2019
Football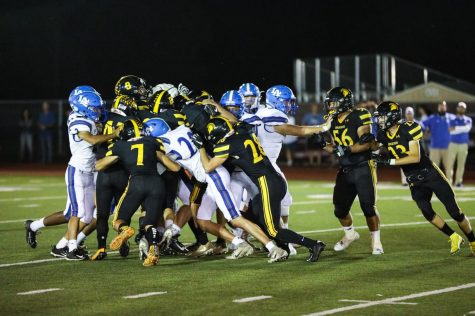 Despite a rocky start to the season due to a multitude of obstacles, the varsity football team is training with ongoing vigor. Injuries, such as torn ACLs and concussions, have kept key players off the field. On top of this, the Eagles have been forced to play their toughest opponents from higher league teams early on in the season, giving them little time to get comfortable. Currently, the Eagles have a 2-1 record in the El Camino League and a 3-4 record overall.
"In the early season, it's a bunch of A-League teams," head coach Dave DeGeronimo said. "All the teams that we play in the preseason are De Anza league teams, so we have to be prepared right away."
The team has been trying to focus on one game at a time. According to DeGeronimo, they have been putting an emphasis on getting back to the fundamentals and building a 'football IQ', which is a player's ability to learn and think in terms of the game.
"I've seen the [offensive] plays that DeGeromino has drawn up and I've seen how they work," quarterback junior Charlie Kinne said. "They can spread out a defense. I feel like he puts me in a really good position to succeed."
Unfortunately, DeGeronimo said the team's progression this season has been hindered by the challenge of a weakened roster that has been "snakebit by injury".
"Injuries from the last game at Jefferson High School is definitely one of the major issues," said wide receiver sophomore Cole Rafferty. "But the most important one was losing [Eric Jones, who is] not just one of our captains but one of our key players that helps us out immensely. "
Still, the Eagles won their first league game against Cupertino High School on Saturday, September 28, and won last night against Monta Vista, setting high expectations for future games.
"I feel like we're a stronger team than we've ever been," said junior Aaron Parker. "I know that, and I'm confident in that. So I think we're going to be able to bring out that energy every week."
Girls Volleyball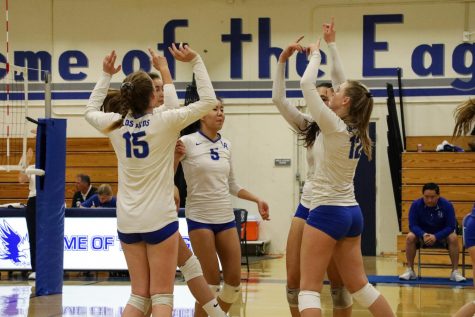 Despite losing six seniors, the varsity girls volleyball team is living up to the expectations set by their first-ever NorCal title last year. With a record of 5-3 in the De Anza league, the Eagles are currently in third place behind Mountain View and Palo Alto.
"I think we're not as experienced as we were last year," coach Peter Kim said. "We need to build that rhythm with all the teammates, but overall we have a lot of talent."
Last week, the team played their first rival match against Mountain View. The team started off strong, pushing ahead of Mountain View with a score of 2-1 after the third set. After an intense two and a half hours with little support from the crowd, Los Altos lost the fifth set with a score of 8-15.
"During the second and third sets, we were playing more collectively as a team, we were having fun, not really thinking about the small crowd," team captain senior Katie Kishton said.
More recently, they played an away game versus Los Gatos, hoping to improve on their ability to play more collectively and be able to return as many difficult rallies as possible. This is still a work in progress, as the team is experiencing some struggles, but working hard to overcome them.
"I think our defense is really good," senior team captain Claire Kwok said. "We've been going after balls crazy, like diving all over the floor."
Next, the team will be playing a home match against Palo Alto on Thursday, October 17.
Field Hockey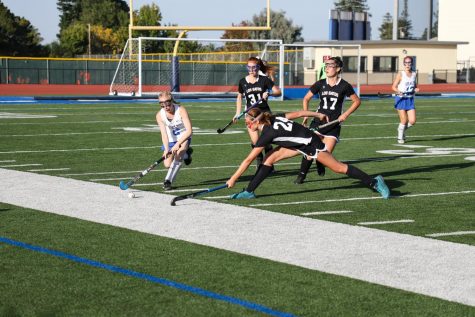 Girls varsity field hockey started off the season strong, but has been struggling more recently as they challenge more difficult teams. They barely lost their game on Thursday, October 10th against the Los Gatos Wildcats with a final score of 1-2, bringing their league record to 6-5. Struggling to keep afloat, the team is currently placed fourth of five teams in the De Anza league.
The girls agree that the main reason for their loss against Los Gatos was due to the lack of communication. In the practices following the game, they reflected on their mistakes and worked on the areas of fault during that game. Still, Senior Olivia Ih looks on the bright side and notices the skills of each individual player.
"We all brought something different to the game," Olivia said."Like my coach said, everyone took part in this game. Every person contributed to the final result of the game. It's never just one person's fault, and it's also not one person's win."
The girls have also been spending a lot of time on fundamentals at practice before launching into more difficult plays. Sophomore Isabel Van Campen explained that it is difficult to take on a new challenge before completing the previous one.
"Having a strong foundation is one of the most important things," Isabel said. "They are the roots of the way our team plays, so it is crucial to take steps back and relearn them."
Moving closer to CCS, the girls are putting their all into every practice. They displayed their improvement in the game against Los Gatos where they scored against a team with an undefeated record. Even though the Wildcats ended up winning in overtime, the Eagles fought until the last moment and displayed their improvement.
Cross Country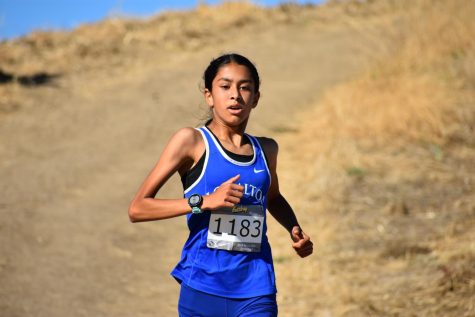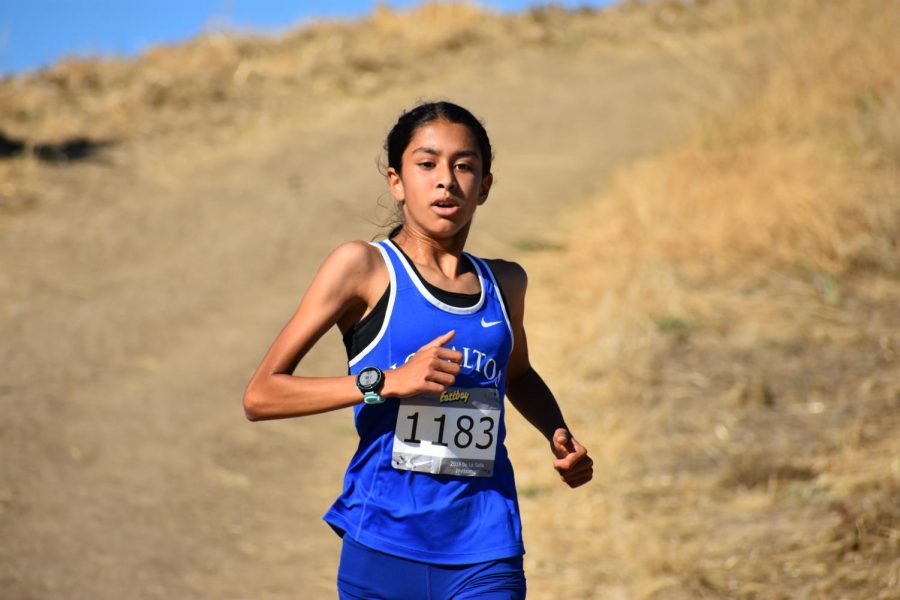 From repeated hill sprints to team ab workouts to long Saturday morning runs, the Los Altos cross country team's hard work this season seems to be paying off. After three invitational meets and their first SCVAL meet, head coach Steph Mackenzie says that varsity boys are first in the league and varsity girls are fifth. 
At the Capital Cross Challenge meet in Sacramento on Saturday, September 28, senior Adam Sage secured a fourth place finish in the seeded varsity boys race and reached his season goal of running a race with a pace less than five minutes per mile. On the girls side, freshman Lauren Soobrian finished third in the seeded varsity girls race, and Mackenzie said that Lauren is currently ranked as the seventh fastest freshman nationwide.
The girls team is stacked with underclassmen this year, with six out of the seven top varsity runners being freshmen and sophomores. Although girls do tend to peak earlier in their careers than boys, Mackenzie said that the times of this young team are especially impressive. 
"It is significant because it takes years to develop your aerobic capacity," said Mackenzie, noting that most improvement in cross country results from adjusting a runner's form or training more mileage over time. "It's something that improves with age, and you get much more efficient at running with practice."
The athletes have also been learning about other ways to improve their fitness and health. For the past few weeks, different speakers have been coming to practices to talk and work with the team by showing them new techniques. So far, the runners have heard speeches from a food specialist, a sports psychologist and strength coaches, which has encouraged them to rethink and refine their running at practice and meets. 
However, Mackenzie has attributed this season's success to more than just proper technique and training. She said that the energy on the team has been a major game-changer. 
"We used to show up at these big meets and feel really intimidated," she said. "Now they go there and they're [think], 'Okay, we can do this. We belong here,' and I think that's confidence they've never had before."
Girls Water Polo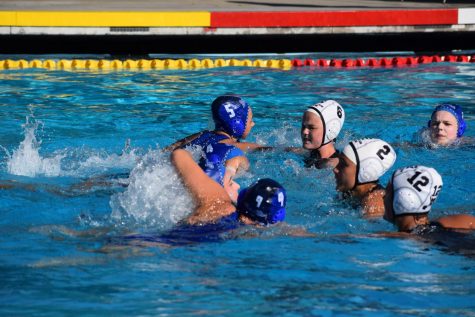 As the varsity girls water polo team swims into a new season, the team is focusing on their communication skills in the pool and on the deck. They are currently ranked fourth in the league with a record of 3-4. Despite losing their third league game against Los Gatos, coach Katie Tasman is excited to see the players improve throughout the season, especially the upperclassmen. 
"I would say the leadership that they've been showing in practice has really led to a flow in games," Tasman said. "There are three very strong athletes who really set the tone for what the team wants, both in the water and out."
In addition to new leaders, the team is unusually small with only ten field players. Although this means the team won't have as many extra players to substitute, all the girls will have lots of playing time this season. This is a great opportunity for the girls to get more hands on experience outside of practice. Tasman believes that this provides a chance for the players to bond with one another on a more personal level, creating a better team dynamic and helping with communication in the pool.
"We have great team chemistry, but we still struggle with communicating on defense and forcing the right passes," senior Olivia Cairns said.
Although the girls faced minor setbacks, like miscommunication, at the start of the season, they are always looking to improve and put themselves in the best possible position for CCS by taking it one game at a time.
Boys Water Polo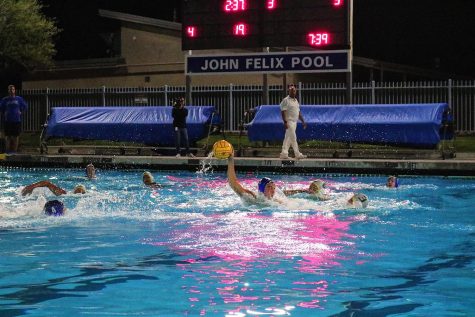 After the first 13 games of the season, the varsity boys water polo team is off to yet another great start as they are ranked first with an undefeated status in their league. They've lost one game outside of the league against Tamalpais and are now finishing up their double round robin tournament. The boys then look forward to winning their league tournament—the first round of which will be on Tuesday, October 29, the second on Thursday, October 31 and the championship on Saturday, November 2.
Afterwards, they hope to make it into the Open Division of CCS to compete with the top eight teams in the Central Coast Section and advancing to the CIF NorCal Regional Championship to face the top teams in Northern California. But in order to get there, the team needs to stay committed and work hard at every practice and game. So far, their determination has shone through the scores they've left behind and the way they've played together.
"Our offense is great," Coach Seth Tasman said. "Right now, we're scoring 15 to 17 goals every game. When we play good defense, it results in a good offense. We have a lot of guys scoring and making great passes and that's really helping us succeed. When people are unselfish and we move the ball, we have fun out there."
The team's strong offense led them to beat Palo Alto on Tuesday, October 8 with a score of 17-12 and Homestead on Thursday, October 10 with a score of 18-10. This weekend, the team plans to travel to Sacramento to play some of the highest ranking private schools in Northern California for several neutral tournament games.
Girls Golf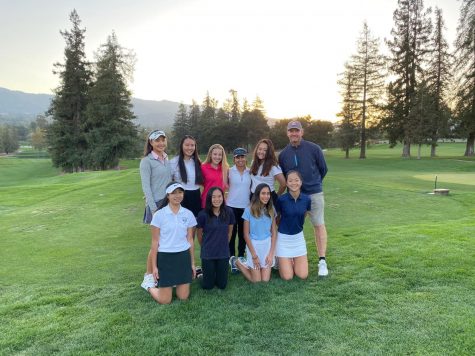 The varsity girls golf team has endured a rocky season with a league record of 1-5 and the unexpected resignation of coach Richard Fujii midway through due to time commitment issues with his job. Despite this, the players and new coach Andy Barton have been working closely to set goals for gameplay and to strengthen the team's bond.
"Our new coach is really enthusiastic and helpful so we're glad to have him," junior Morgan Taylor-Cohen said. "Athletic Director Michelle Noeth has also helped us set our own goals, which really drives me to play more seriously and try to improve each match."
Junior Annika Gaglani explains that with the arrival of the new coach and four freshmen on the team, the upperclassmen have prioritized connecting with younger players and ensuring that they are confident in their skills.
"Upperclassmen, especially the seniors, have stepped up as leaders for the team by helping guide the lower classmen through helping fix their swing, making them feel included, and helping the coach out with some logistics," Annika said.
The team has moved up to the De Anza division this year, which has made the competition much more challenging. However, the players have pushed themselves to have the right mindset about their gameplay.
"Our team is continuing to have a positive attitude towards the game, whether we have a good round or not," Annika said. "Just continuing to push through and keep our heads up when we do not have a good match is something I am proud of."
With one win under their belt, the players are looking forward to improving their record at their next game against Gunn on Tuesday, October 14.