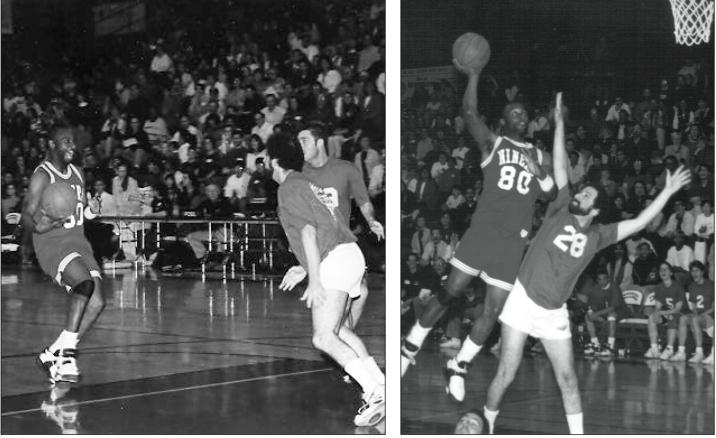 Football player Jerry Rice (left)
fakes out and proceeds to dunk over
English teacher Galen Rosenberg
in a faculty basketball game.
From the 70s and through the 90s, a co-ed team of roughly 15 faculty members dribbled, shot, sweated and laughed together.
Players included math teachers Steve Cochran and Bob Randall and English teacher Galen Rosenberg. During extended lunches, students would watch as the staff scrimmaged against the girls basketball team.
"It was fun to have a student-faculty activity where we could participate together," Rosenberg said.
The team also competed against professional football teams such as the Raiders in the 80s and the 49ers in the 90s, when the professional teams held basketball games to provide high schools with engaging fundraising opportunities.
Story continues below advertisement
"For the fundraiser games, a lot of staff members participated, but the teachers who participated varied from year to year," Rosenberg said.
The staff team did not have much time to practice but did meet occasionally to receive help from former girls basketball coach Earl White.
Not satisfied with just playing basketball, the team also explored other sports such as wrestling.
"One year, we got in a big thing of chocolate jello pudding and wrestled against students in the gym," Cochran said. "A lot of students came and watched, and we made a lot of money."
Even though the team was active a few years ago, Cochran and Rosenberg said that there was no particular reason the team eventually disbanded.
"There's only so much people can organize in a year, and we didn't have time for it anymore," Rosenberg said.
While the team may be gone for the time being, the staff members who participated do express interest in doing something similar in the future.
"I would really want to do it again, and I think it's a fun event for everybody," Cochran said. "It was a time for everyone to clown around and have fun."