Exploring Hacker Culture At LAHS
With photo scandals and data leakages almost commonplace in an increasingly online society, media has been largely responsible for the popular connotation of the word hack — as an illegal or unauthorized invasion of digital privacy. Talk to any programmer at Los Altos, however, and the story is different. The new Los Altos Hacker Union (LAHU) club has raised hacking as its own emblem in an attempt to shed light and help students understand and participate in the hacking process. Members of the club wish to replace the common negative definition of hacking with a new one, comparing it more to programming.
"Hacking is essentially building, making and creating things out of code," LAHU Vice President senior Selynna Sun said. "Hacking does have a negative connotation with it, but [hacking and programming] are basically the same."
For hackers, hackathons are weekend getaways of productivity and fun, where teams gather together for 24 to 36-hour hacking marathons. Sleep is an annoyance brushed away with brief naps, often on floors in sleeping bags. Food is provided by the hackathon hosts, and each hour also features workshops designed by sponsors to teach coders about how to use their products. Often consisting of four people each, teams begin with an idea, and if all goes well, finish with a product.
"You have to think of an idea, that's the first three hours," LAHU Co-President sophomore Dan Appel said. "As soon as you get started, you just kind of get into crunch mode for the next 36 hours, where you just keep working and working and working."
These gatherings are often sponsored by corporations such as Google, Microsoft, PayPal and Dropbox, which offer thousands of dollars in prizes to teams with the best products, determined by a set of judge panels to whom teams pitch to.
In 2014, PayPal hosted Silicon Valley's largest high school hackathon called HSHacks in its headquarters in San Jose. For Selynna, HSHacks was her first glimpse at the hacking community.
"Just going [to HSHacks] exposed me to this whole world of hacking," Selynna said. "It was really cool to be around so many programmers who are really passionate about coding."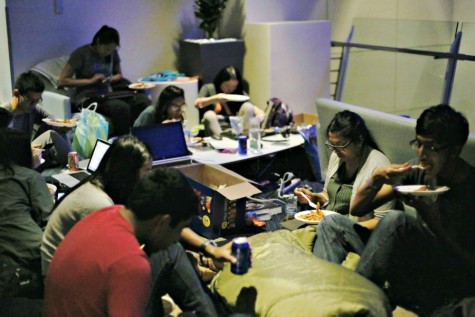 The community, Selynna says, is comforting and supportive, where beginning hackers have mentors and hackers from more advanced teams for help. While hackathons are competitions for huge monetary and hardware prizes, they are also, at their core, communities that thrive on collaboration.
"Everyone is really supportive of each other, and they're willing to sacrifice their competition to help people out," Selynna said. "Even though hackathons are typically competitions, a lot of more advanced programmers are willing to say 'I won't finish my hack, but I'll help you.'"
Selynna worked with Dan and sophomore Justin Yu to create the LAHU in conjunction with HackEDU, a nonprofit organization that helps students host hacking-based clubs by providing workshops and teaching guides. The club has around 30 members and teaches them the basics of web development, encouraging them to attend hackathons to learn about the hacker community.
LAHU hopes to foster a positive hacker community that lives outside of its more negative definitions in pop culture, and provide students the tools they need to build innovative products.
"A lot of students, when they came up to the Los Altos Hacker Union booth at Club Day, they said, 'Oh well I can hack into this and break into this,' and that's not good," Selynna said. "The goal of the club was to basically expose people at Los Altos to the hackathon community and to promote coding."
Leave a Comment