EqOpTech distributes refurbished laptops to students in need
EqOpTech (Equal Opportunity Technology), a club at Los Altos and nonprofit organization, delivered 300 refurbished Chromebooks and chargers to students in need at Mariano Castro Elementary School on Friday, November 22. 
EqOpTech works with individual schools to distribute refurbished laptops to students from low-income families who need them for schoolwork but can't afford them otherwise. Although the event at Castro Elementary was their largest deployment of laptops yet, the club has previously delivered a total of 846 refurbished computers to schools in Los Altos, Mountain View, East Palo Alto, and San Jose.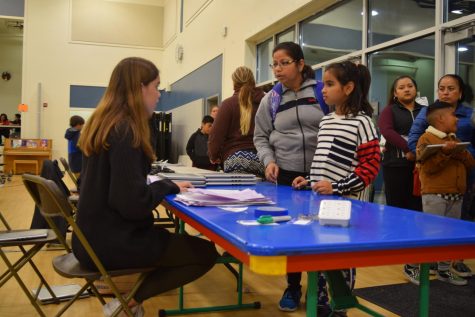 At the Castro event, club members checked out functioning laptops to parents and helped students navigate the educational computer tools used by the school. According to club member sophomore Sofia Mujica, students were eager to receive a laptop that they could call their own.
"I really liked getting to see all the families and how excited the kids were, saying 'Oh my gosh it's a Samsung!'" Sofia said. "The parents were saying that they had been waiting for this day for weeks. It was just beautiful to see."
The majority of the laptops refurbished by EqOpTech for the event were donated from the Mountain View Whisman School District. This year, they fixed 1,700 laptops collected from the district. 
Since the summer, club members interested in software engineering have worked to refurbish these laptops for the students. Club members clear past data, clean the computer's external surfaces and install updated software on older MacBooks. Each laptop takes anywhere between thirty minutes to two hours to refurbish.
Public Relations Intern senior Sarah Yung explains that the event showed the direct impact of the club's mission to improve underprivileged students' education. 
"It was really great to be part of such a good cause and to be giving back to the community in a meaningful way," Sarah said. "It was incredible to not only make a tangible impact but also interact with the people we were helping."
The next laptop deployment, anticipated to be in January or February, will be held at Theuerkauf Elementary School in Mountain View.