English Teacher Organizes Toiletry Donation Drives
English teacher Margaret Bennett is asking for unopened hotel toiletry donations to give to teenagers of Tijuana next summer during her third trip as a volunteer with Brothers and Sisters in Community Service (BASICS). Bennett will help at a children's program in the San Eugenio Community to provide education, food and activities to the children, teenagers and mothers.
"We put [the toiletries] in gift bags and goodie bags and give them to the teens, as kind of a gift for coming for the week," Bennett said. "They just really appreciate it because it's just something a lot of them don't have. Many of them don't even have showers… so to have fresh-smelling shampoo and be able to use beautiful-smelling soap and lotion [is] a huge treat."
BASICS aims to build houses for those without proper shelter. Last year, BASICS constructed a total of five houses in two weeks. In order to help more than those five selected families, BASICS also set up outreach camps open to children, teenagers and mothers of Tijuana. These camps provide a safe place for recreation where people can play games, make crafts and have something to eat. Goodie bags filled with school supplies are given to the children, and the donated toiletries are given to the teenagers.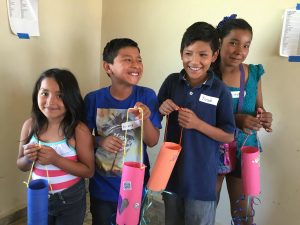 "I think it's particularly timely now because it's nice for [residents of Tijuana] to think that all these people in California thought of them and collected toiletries for them all this year," Bennett said. "We're building bridges instead of building walls, especially in this time in our political climate."
Shampoo, conditioner, soap and lotion are preferable donations. However, Bennett also welcomes items less essential for the residents of Tijuana, such as shower caps, as she will donate these items to other community organizations.
"Anything that we don't use with our particular camp group or activity group, we give to other people down there who could use it," Bennett said. "Nothing goes to waste."
Bennett is taking donations from now until the last day of school in the designated shoebox by the door of room 404.
"Come in anytime," Bennett said. "Even when I'm in class, just drop it off. It's not a big deal because it's pretty unobtrusive, and it makes it easy for people."
Leave a Comment