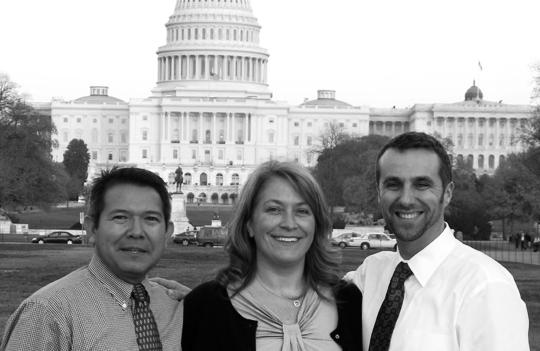 English teacher Michelle Bissonnette (center)
was chosen to work as Teacher Ambassador Fellow with the U.S. Department of Education in Washington, D.C. Here she smiles with colleagues outside the Capitol Building.
After being offered the role of Teacher Ambassador Fellow with the United States Department of Education, English teacher Michelle Bissonnette went on temporary leave from the school to work in Washington, D.C.
She got the position on June 7, 2009. From a pool of 1,400 other teachers she was chosen by evaluators who looked for someone having depth of experience as a teacher. Bissonnette brought a background as a leader within the school and the district as a summer school administrator, a union leader, a member of the school's Leadership Team and program director for the YMCA.
As Teacher Ambassador, Bissonnette works in the Office of the Secretary of Education with the Junior Senior Adviser to the Secretary, Jo Anderson. Her work focuses on the issues of teacher effectiveness and quality, ranging from teacher preparation, recruitment and professional development to teacher pay and career development, all in the effort "to improve the professional side of education."
Focusing mainly on teacher quality, Bissonnette provides policy feedback and input at different levels of the development policy. She also has the opportunity to talk to education professionals about work and plans for educational reform all over the country.
Story continues below advertisement
"I think the biggest eye-opener has been the degree to which politics [are] involved in what the final outcome of legislation is," Bissonnette said. "I always knew that politics played a considerable role, but I don't think I understood the real depth of its influence."
When asked what her favorite aspect of her new position was, Bissonnette said that every day is different. She spends a lot of time reading literature and researching about education and policy and meeting with diverse groups in D.C. working on the policy of education. She also emphasized the luxury of being able to attend a wide range of events, conferences and work groups in the department. "I thought we had a lot of meetings as teachers at LAHS, but I have never been in so many meetings in my professional life as I have in Washington, D.C.," Bissonnette said. "Some days I don't even see my desk for more than about an hour, and other days, I'm at it for most of the day. So I suppose I'm lucky; no day is the same."
Bissonnette's fellowship work ends on July 16, 2010. Until then, she plans to spend the next eight months fully immersed in her fellowship at Washington, D.C., hoping to get exposure to a whole new world of education policy and promote teacher leadership at the local, state and federal levels.
Throughout the time Bisonette spends in D.C., her goal will be to learn as much as she possibly can. When she eventually returns to the MVLA school district, she hopes to make "an already great school into an extraordinary one."