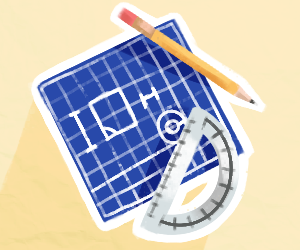 Engineering & Design
December 7, 2020
Intro to Engineering Design
As the pandemic carried on to this school year, Yu had to adapt her Intro to Engineering Design class to fit an online format as well. The introductory course explores 3D modeling through online software and teaches students design skills through various independent projects.
Typical assignments include a "workspace improvement project" in which students design an original product to improve the quality of living in others' workspaces. However, since the 3D modeling software additional projects like these require isn't accessible through students' personal computers, Yu has had to slow the curriculum down and film videos explaining concepts the students have to explore through Fusion 360, a newly-introduced, cloud-based 3D modeling software.
Luckily, Project Lead the Way, the organization that designs the Intro to Engineering Design curriculum, was already planning on changing the curriculum to make the resources more accessible through a cloud, and Yu is working with the administration to strengthen the 3D modeling programs and ensure its success in her classes.
---
Innovative Design Essentials
The Innovative Design Essentials class is the first in the Engineering pathway, teaching students the design process and equipping them with the skills necessary to explore each pathway offered by the Technology and Design Department.
Typically, students would develop their design thinking skills through experimentation with the 3D printers and laser cutters at school. This year during virtual learning, Robotics and Innovative Design Essentials teacher Stephen Hine was able to mirror that experience by having students design projects online and 3D printing them at school.
"Currently, we're having our students construct holiday signs," Hine said. "We sent home kits with lights and other materials, which helps them see their work in real life."
Despite the disadvantages of distance learning, Hine said that remote instruction has forced the department to think carefully about projects and restructure them so that they are the most conducive to students' learning.
"We've created projects that we plan on using in future years," Hine said. "We've developed ways that we can teach students the material more effectively which is a huge positive."