Elizabeth Barnett: singing her way to honor choir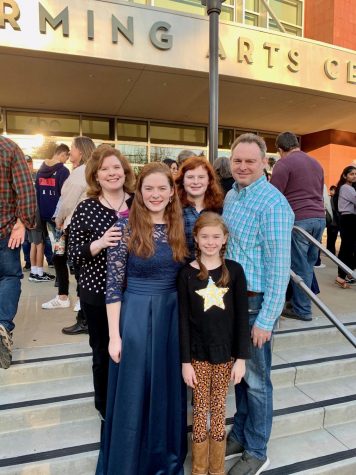 Imagine doing nothing but singing for eight or more hours a day for three days in a row; burying yourself in the sheet music, focusing on the smallest of details, trying to find places to sneak in a breath. To some, this may seem daunting or even ridiculous. But to junior Elizabeth Barnett, it's anything but.
Elizabeth has loved singing since she was a kid, due in large part to her family.
"I've been singing since I was little," Elizabeth said. "Music's a huge thing in my family—my mom majored in choral and vocal music and my aunt sings professionally. So, there's always been that expectation that I do singing at some point."
But it wasn't until sixth grade that she found a reason to sing for herself when Los Altos's very own Mainstreet Singers, now known as Volare, visited Almond Elementary School and performed. At the time, she was astounded by how many people were in the group and how well they performed—"[It was] near perfection," she recalls. From that moment on, she was determined to get in—later auditioning and being accepted her sophomore year. Since then, the joy and community she's found in the activity has only pushed her to be even more involved.
"[When] you spend all this time with these people, you end up forming friendships with people you never thought you would," Elizabeth said. "I know I would've never met the girl I sit next to in Volare outside of choir and now I consider us to be friends. It's just this community of people who share your struggles and pain and understand why you still go with it because they also share the joy that you have."
So, this November, in an effort to improve her craft and take advantage of her resources, Elizabeth, along with senior Elena Atluri, auditioned and were accepted into the Soprano Soprano Alto Alto Regional Honor Choir (SSAA). This choir is a program within the California Choral Directors Association (CCDA), an organization that aims to provide choral musicians with transformative experiences. Over three days, gifted musicians selected to be in the choir work to learn new music under the direction of acclaimed directors, the weekend culminating in a concert with all of the groups within the association.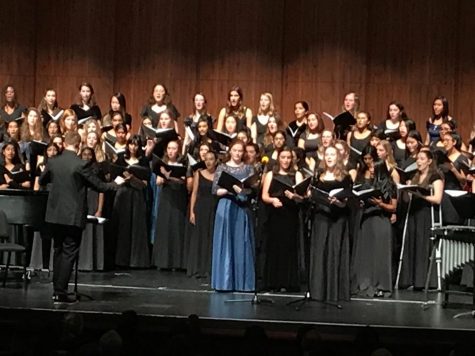 Rather than being intimidated by the standards and hard work set before her, Elizabeth saw this as an incredible opportunity to learn and pursue something she loves.
"It sounds boring to be working for 12 hours at a time but for me it was super fun to work with this really accomplished guy and get to be in an ensemble where you don't have to be so focused on notes or the little things and instead just really get in touch with the advanced aspects of music," Elizabeth said. "I loved our final performance, it's amazing to hear and perform something that we, as a group, and have worked [hard] on and to really be proud of it."
And, though she was unable to commit to the All State Honor Choir—the next level up in choirs—this year, she hopes to audition for it next year.
"Music has always been an outlet for me," Elizabeth said. "When I'm singing, that's the only thing I'm focused on and I'm not worried about everything else going on. [Choir] just brings me a lot of joy."