Eagles fall short to Gunn in soccer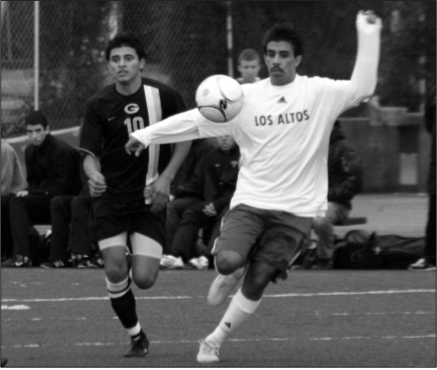 Junior Juan Morales
concentrates on trapping the ball during a game against Gunn. The Eagles lost 1-0 but hope to win tomorrow's rematch.
Described by Gunn soccer player junior Victor Lazarov as "a tough game to win," the match on Tuesday, January 26 between LAHS and Gunn varsity boys soccer teams was a close one.
Within the first five minutes of the game, Gunn scored off a set piece from a free kick, sinking the only goal that was made the entire game. As the teams battled it out on the field, LAHS Head Coach Vava Marques shouted on the sidelines, encouraging players to be more aggressive.
"I think the game was pretty even most of the time," Marques said. "We didn't bring our A game, and then we [were] still able to stay with a strong team."
During the second half, the Eagles were more aggressive, with one receiving a yellow card. However, no goals were scored.
"It was really disappointing because all we need to do is take shots," goalkeeper sophomore Lucas Champenois said. "We could've scored, but we only had two shots the whole game, so we should have done better."
The team did take a few shots in the second half of the game that were close to making it in, with one bouncing off of the bottom of the goal and another passing by the corner of the goal.
The game ended with a Gunn win of 1-0, making LAHS' record 2-3.
"Coming into the game, I guess we thought we could definitely play with these guys because we beat Paly 4-0, and Paly beat this team [1-0], so we expected to give them a hard time," Lucas said. "But we didn't play well the first half. We picked up the second half, but it wasn't enough."
Senior Eric Safai attributes the loss to a "low-key" warm-up beforehand.
"Vava was saying if we don't warm up properly we don't play at our best ability," Eric said. "We need to work on communication on the field."
This year, the team moved up into the De Anza League and has four seniors with mostly younger players. Some students who are on club teams did not try out for the school team.
"The guys that actually wanted to be here are passionate to play for Los Altos," Marques said. "That's what I like to coach … a team [in which] guys are really excited to be on the team, really excited about the next game, and really excited when they go on the field."
Lucas exemplifies that spirit with his optimistic view on the team's future.
"Now that we've played all the teams and we know who their good players are, I think we'll do much better the second half of the season," Lucas said.
Marques, too, is looking forward with anticipation and said that he has had "way better teams than this" but didn't have "as much fun" as he is having this year.
"We're playing with a lot of heart, [and] a lot of smile[s] on our face[s]," Marques said.
Leave a Comment