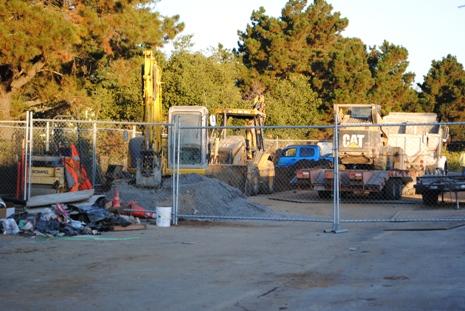 The Los Altos City Council plans to renovate downtown Los Altos. Its plans, which are intended to stimulate the economic growth of Los Altos, include making downtown more pedestrian-friendly and adding office buildings.
The first major plan to take place downtown is the renovation of the Safeway located on First Street. At a study session held Tuesday, September 14, the City Council discussed plans for the new Safeway with a 41,575-square foot market with additional rooftop parking.
The existing 21,000-square foot store was built in 1967 and does not have all the amenities that are found in other Safeways. The improved Safeway will offer all departments that the Safeway located on Grant Road has.
Story continues below advertisement
In addition to the new and larger Safeway, 4,800 square feet of extra retail space will be used. The money for this project will be provided by Safeway.
"The old Safeway didn't provide much; it was very old," freshman Elizabeth Fuchs said. "But now that they are renovating it, I'm probably going to visit it more often."
Safeway has been trying to persuade the City Council to allow it to renovate the old building for years. Assistant City Manager James Walgren told the San Jose Mercury News that the main reason the council has ignored the request is limited parking.
In addition to the rooftop parking on top of the new Safeway structure, the city needs about 65 more parking spaces. Accounting for the area that the new Safeway takes up, it needs at least 231 parking spots, but only has room for 167. In order to fulfill its requirements, Safeway has opened up its parking to the public, and has decided to become part of the "downtown parking district."
At another forum held Monday, September 20, council members discussed plans that could accelerate downtown growth. At the forum, officials suggested plans to increase productivity in the downtown area, draw consumer attention and maximize retail growth.
"[The renovations] will definitely change the minds of others who don't live around [Los Altos]," sophomore Jami Hsia said.
The exact topics and plans discussed have not been released to the public yet, and they are to be broadcasted on KMVT Community Television Channel 15 on Sunday, October 31. The uncertainty of the projects has caused differing opinions about the renovations.
"I really didn't know anything about it, or that [City Council] was considering changing downtown," Elizabeth said.
Another major project is the construction of a 3-story, 48-unit building, which will be located on First Street. This building may add more private businesses, offices and possible lodging sites to the downtown area.
Minor replacements will also take place in order to further beautify downtown.
These decorations include monuments, fountains and trellises along First Street and Main Street. Art pieces will be hung around First Street and Main Street. Also, street lights with banners, hanging baskets and string lights will be added to downtown. Sidewalks and roads will be completely refurbished and new benches and bike racks will be added to make downtown more accessible to bikers and pedestrians. A variety of trees and new plants will also be added to finish the new look. Parts of downtown will still be open during construction.
"I thought of Los Altos as a small town with mostly old people," Jami said. "But now that they're changing [downtown], it gives Los Altos a bit more life."