Domination: 4-Year Varsity Players Lead Teams To Perfect De Anza Records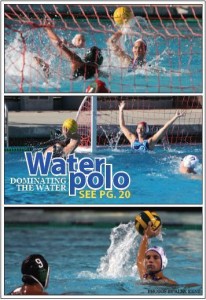 Colin Mulcahy treads water and hoists the ball high up by his ear. Underwater, a war is waging between the lower halves of Colin's body and the two players defending him. As a third defender rushes over to provide yet another set of arms in Colin's face, Colin casually tosses the ball across the pool to senior Emilien Fritsch, who easily puts the ball past the goalie in a matter of seconds.
Since being named the CCS Division 1 player of the year last season and a preseason All-American this year, senior captain Colin Mulcahy has dealt with the increased defensive measures of other teams.
"I'm so used to double and triple teams I just approach it like it's one defender," Colin said. "You just have to be creative and more physical."
This type of unprecedented defensive attention on one player, and the Eagles' unselfish team mentality is what has lead boys water polo to an undefeated (8-0) record this season. Due in large part to its two leading scorers, the team has not lost in league play.
"Those two [Colin and Emilien] go hand in hand, they play really well together," said first-year varsity head coach Johnny Bega. "They've played for the last some-odd years together, and they do really really well."
Bega took over as head coach of the Eagles this season. He spent the last five years coaching the boys team at Menlo Atherton High School, leading them to three CCS finals appearances, winning one in 2007. Bega expects the same from LAHS's team this year.
"I told them at the beginning of the season that I thought we could end up in the finals, whether we're D1 or D2 and it's very realistic I said that," Bega said. "We've become an exceptional team."
Emilien echoed his sentiments, stating that he never doubted the team's ability to do well.
"My expectation for league was to go undefeated and win league because we have done that for the past three years," Emilien said. "I am hoping we at least make it to the finals of CCS. That would make my senior season."
If the team meets all expectations, though, a lot of the credit will be due to Colin.
"To have a guy like that to pass to, it's just unheard of," Bega said. "You can throw the ball to him anywhere and he'll score at any will. And the other players know that, and they're okay with that."
Colin agreed with his coach, and the ability of the team to play as a cohesive unit has really attributed to its success.
"Everyone is stepping up and accepting their role on the team which is good," said Colin. "We are the same team in a lot of ways as years in the past. We have a lot of offensive talent and we put up a lot of goals."
Colin's dedication to the sport goes beyond personal growth as well, for he has taken his role as team captain very seriously.
"In training, he personally works hard so he can achieve what he wants to do later on in college, but also he's really good with all the teammates," Bega said. "I see many players at his level say, 'oh this high school thing is stupid', but he's really done a great job helping these guys out."
As far as college goes, Colin's top choices so far are UCLA, UC Berkeley, and UCSB. Wherever Colin decides to go, he's sure to have a pretty big impact. Even if he's triple teamed.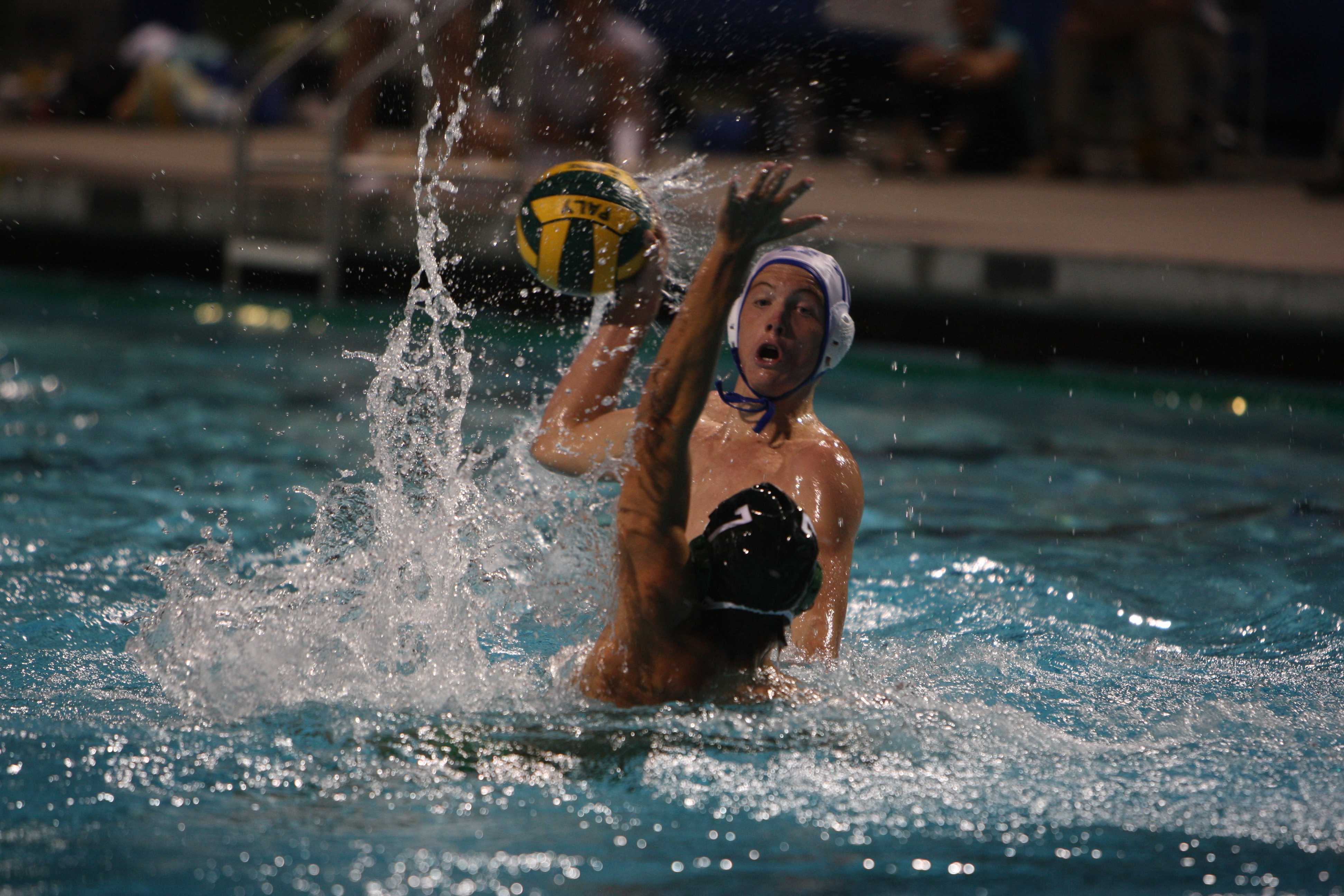 Girls Waterpolo
Caitlin "KK" Sandlin steals the ball, weaves through the opposing defense, cocks her arm back, and fires a shot into the back of the net. A few minutes later, KK snatches the ball from her opponent, switches the ball from her left to her right hand, springs up out of the water, and slings a shot past the reaching goalie. As the Eagles venture into the second half of their season, don't be surprised to see KK steal the show and shoot down the hopes of any and all other teams.
At the forefront of the Lady Eagles' (8-0) undefeated league season is team captain KK Sandlin, a four year Varsity water polo player who leads her team in both steals and goals this season. KK's defensive prowess has made her one of the most dominant Los Altos water polo players in recent memory.
"She's everywhere in the pool at the same time. I've never seen someone be able to steal the ball from as skilled of players as KK can," Coach Brian Whitlock said. "She's like a seventh defender in a six player defensive game."
While KK has always been an outstanding defensive player, this season, her increase in offensive production has made her more dominant.
"[KK] stepped up her offense immensely this year, leading our team in goals and being able to hit the tough shots," Whitlock said. "We have plays that revolve around just KK taking a shot."
Brian Whitlock '03 is a former LAHS waterpolo player as well. Whitlock went on to play D-1 Waterpolo at Pepperdine following his time at Los Altos. He has coached the team the past three years.
"We also have five girls that I started off with as freshmen two years ago when I started coaching who are now juniors that have solid varsity experience," Whitlock said. "They all played on varsity as freshmen and got really good experience. And now that they're juniors, with KK leading the team, we definitely have a solid chance at winning."
This core includes several players, including juniors Katy Schaefer, Alyssa Waln, Carrie Beyer, Nicole Larsen, and Olivia Santiago, who was named to the Youth National Team. The experience playing together goes a long way in creating a 'symmetry' as the team's chemistry and comfort has been instrumental in helping the team keep an undefeated record.
"Most other teams lost many of their strong players who were seniors last year, so we have an advantage [over] them," KK said. "We barely lost any of our starters or main players"
One returning player is goalie Nicole Larsen. KK didn't hesitate to name Nicole as a key component to the teams ability to rise to the top of the league.
"I feel like the difference is that this year, our main players have stepped up and have become bigger threats to the opposing team," said KK. "Especially our goalie Nicole has been doing great and helping out the team a lot by working hard this year."
However, life as a goalie is made somewhat easier when a player with KK's defensive prowess is in the pool at all times.
With just four games left in the season, the girls prepare for their shot at both a perfect season, and hopefully a CCS championship, which Coach Whitlock believes will come down to 'whichever team plays the best,' since all the superior teams are even in strength.
It's having a player like KK Sandlin that may just prove to be the difference maker.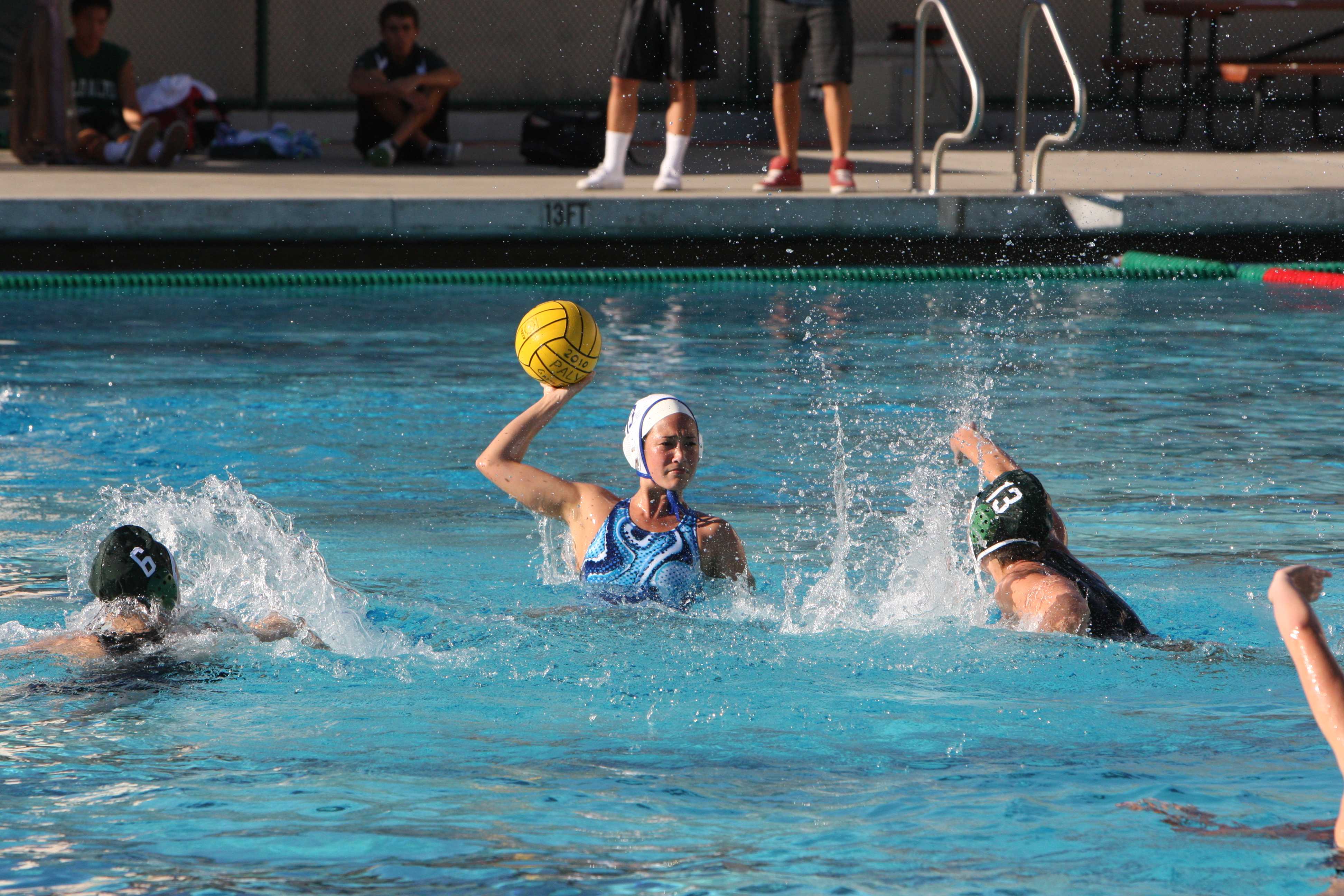 Leave a Comment