District planning hybrid on-campus return next month
The Mountain View–Los Altos School District proposed plans for a hybrid return at a Board meeting on Monday, March 8. These plans come following Santa Clara County's descent from the purple tier of coronavirus transmission to the red tier on Wednesday, March 3, in addition to teacher and staff access to vaccinations.
Given that the county remains in the red tier or lower, the new hybrid schedule will begin on Monday, April 19. Students will be separated into groups A and B. In the first week, Group A will be on campus for earlier periods as Group B remains remote on Monday and Tuesday. Wednesday will remain an asynchronous day for all students, after which the groups will switch for the remainder of the week. The second week will operate similarly with Groups A and B swapped and the early periods off campus instead.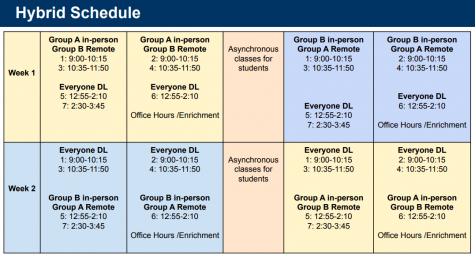 In addition to students, teachers will be returning to classrooms in a simultaneous teaching model, where in-person and synchronous groups will be taught together using tools like Zoom to "maintain academic progress and provide social emotional support."
District Teachers' Association President David Campbell, who helped formulate the model, stressed the importance of maintaining the safety of not only students, but also staff during the return.
"All students are able to choose whether they want to stay at home because they don't feel safe, and that's okay," Campbell said. "But a teacher can't choose whether they feel it's safe for them. That just blows me away. We are not dispensable."
Students and families will have the option of choosing which mode of instruction — in person, at home or Option B's independent study — they wish to continue under for the remainder of the spring semester. Hybrid learning would mark the penultimate phase in MVLA's return to campus.
"There are a lot of unknowns that are very concerning, and that alone should show the community how committed teachers are to the education of their children — the fact that we are willing to take that risk to educate and get them out of the house," Campbell said.
The District also revealed a new timeline for the stable groups model, involving "learning hubs" of 12 to 14 students placed in classrooms by common class or need; these students will continue attending class over Zoom until spring break, after which hybrid learning will begin.
The schedule began this week and featured a supervisor orientation on Monday, with seniors returning on Tuesday and freshmen on Wednesday. The following weeks will see on-campus hubs of juniors on Monday, freshmen on Tuesday, asynchronous learning and cohorts on Wednesday, seniors on Thursday and sophomores on Friday.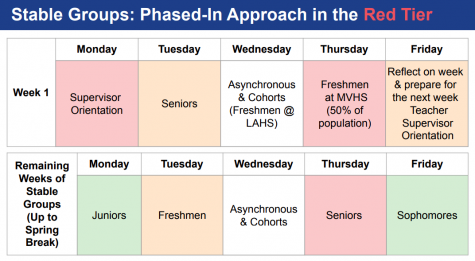 On-campus cohorts, which began in September 2020, are currently serving 95 Los Altos High School students among four "critical learner" cohorts — one Option B cohort, one Advanced Student Investigations cohort and two Special Education cohorts. Season 1 sports — girls golf and tennis, boys and girls cross country and boys and girls swimming and diving — have returned to campus, with an Associated Student Body cohort and two robotics cohorts currently pending.
MVLA has also planned a full in-person return for the fall semester that will see the debut of a new bell schedule voted upon in 2019. Under the new schedule, Monday will have students attending all classes, Tuesday and Thursday will be reserved for odd classes and Wednesday and Friday will cover even classes. Building on distance learning, on-campus instruction will see "new ways to integrate technology into the classroom" through continued use of Zoom and ongoing mental health resources.

Leave a Comment