District Enacts New Program to Help Tackle Teacher Housing
For one Los Altos teacher, "home" consists of a garage and a small cottage, about the size of a portable classroom.
"My house is slightly larger [than one of the school's portables]," the teacher said. "[My wife and I] had to pay $2,500 a month for a house where our bedroom was literally a garage. They carpeted it, but we had to hang our clothes on these garage door rails. [Including other living costs,] that's $30,000 a year we were paying to live in a garage."
The teacher, who asked to stay anonymous because he hasn't told his students that he is leaving, plans to leave the district and find a home elsewhere due to the Bay Area's high housing expenses. He cites the required 20 percent down payment for a house as the crux of the issue, not the money required for a mortgage.
"Down payment is [one of] the main issues," the teacher said. "If someone were like, 'Here's $250,000, you can go buy a $1.2 million house,' people who are reasonably well-paid could afford the payment on that [house] probably, if they have a spouse."
"
My house is slightly larger [than one of the school's portables]. [My wife and I] had to pay $2,500 a month for a house where our bedroom was literally a garage.
— Los Altos teacher who requested anonymity
To help teachers put down that $250,000, the MVLA School District recently launched a collaborative program with Landed, a startup that assists teachers with down payments, a portion of the home's price that buyers must put down before they can receive a mortgage.
To do this, Landed contributes half of a house's down payment through a community fund from local investors. In return, investors and Landed profit by taking 25 percent of the home's increase or decrease in value within 10 years — a bet by Landed that they will benefit from housing appreciation. Teachers who buy a house through Landed will have those 10 years to sell off the house or refinance their mortgage to give investors their share and repay the original investment.
"This allows our staff to get a foot in the door and purchase a property, and have 10 years to live in it to see it appreciate," Superintendent Jeff Harding said. "[Then] they can either refinance or sell it."
In order to access the up to $120,000 contribution which each participant can access, Landed requires teachers to be able to contribute half of the payment, to buy within a designated area determined by the company, and to have taught with the district for two years and be committed to teach for two more. These eligibility requirements aim to ensure stability for community member's investments.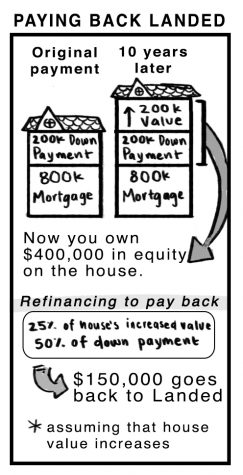 For a homebuyer with a teacher's salary, down payments pose a significant threat. With a Santa Clara County home's median listing price reaching $889,000, according to Zillow Research as of April 19, a 20 percent down payment would cost $177,800. Due to the average teacher's salary, which was $103,201 for the 2015-2016 school year, history teacher Marta Sakowicz feels that the combination makes buying a local home unfeasible.
"It's really hard to save up enough for a down payment while paying rent at the same time," Sakowicz said. "So, theoretically I think I could own a house and pay mortgage, but gathering up that [down payment] is really difficult if you're shelling out $2,000 dollars a month as well as [paying] for everything [else] you need."
While the anonymous teacher is leaving the district, he believes Landed could help teachers in the future.
"[Landed] is definitely helping to address the problem, because it takes a long time to save that much money," the teacher said. "Unless someone has somebody helping them, their family has money or they have stock they are selling, it's hard to come up with a big chunk of money like that."
Harding, who spearheaded the program, explained the importance of alleviating the down payment issue from the district's perspective at an informational meeting about Landed at the MVHS school library on Monday, March 27.
"When you look at the longevity or the health of the district over time, we can't attract and retain the best quality people if we can't maintain our status," Harding said at the meeting. "[And] we are only as good as the people we hire and get to stay with us, so housing is a real issue."
Spanish teacher Robyn Hughes is optimistic about Landed's ability to help teachers.
"I'm excited about it, and I think it's a nice opportunity for teachers to be able to purchase homes in this area where the cost of living is extremely expensive even though they are competing with offers from buyers with much higher salaries," Hughes said. "The investors are certainly going to make a lot of money off of us, but without them, many of us wouldn't be able to buy homes."
In terms of assuaging teachers' fears, Stanford University's success in helping their professors with a similar model lends Landed credibility in their eyes.
"One reason we feel a little better about it is that it's not a new idea," Sakowicz said. "They got the idea from Stanford, which helps its professors live in the area, so that gives me a little more confidence in it. It wasn't just like, 'Hey, we got this new startup idea, let's try it out.'"
For many teachers, however, the cost of a down payment, even in a partnership with Landed, feels unrealistic.
"The idea of home-buying feels more accessible, which is really cool," history teacher Megan Blach said. "But at the same time, sti
ll saving 10 percent for a down payment feels insurmountable… To buy even a one-bedroom condo in this area is going to [require close] to a $90,000 down payment with Landed. I cannot just come up with $90,000 in cash ever working here."
English teacher Carrie Abel agreed that Landed is a step in the right direction for the district, but she cautioned against the idea that it would single-handedly solve teacher housing issues.
"I'm very proud of the district for doing this," Abel said. "It is an awesome opportunity that really shows that they value teachers and that they're doing something. It's a really cool first step. I just hope that there are other steps also."
For now, many teachers will begin looking into housing possibilities they hadn't considered before. It'll be a matter of years before some teachers reach the salary and the amount of financial security they'll need to make these decisions. In the meantime, they'll wait to hear the feedback of teachers who are already in the position to purchase homes.
"I'm considering it at this point, so I'm getting information now and just trying to see where it goes," Sakowicz said. "The company is pretty new. Maybe by the time I become a permanent employee, it'll look better or look worse, so I'm just checking it out."