Departments Standardize Practices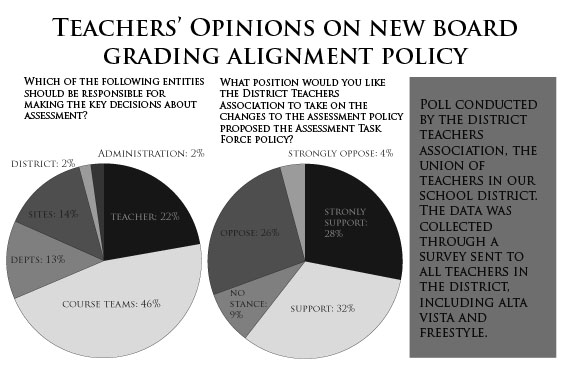 On Monday, April 23, the school board unanimously passed the Grades/Evaluation of Student Achievement policy. This policy aims for grading alignment between teachers of the same course at the same school. This means that, for example, all World Literature teachers at school would have to assess and grade students in the same way. While the policy is set to go into effect in the fall, teachers will be given time to work toward alignment. Each department is at a different place in this process. Below are descriptions of what each department plans to do to align itself as well as what steps have already been taken.
English Department
The English Department has been working toward alignment for approximately 15 years and will continue as the policy is put into place.
"Basically the policy's a pretty accurate reflection of what we're already doing," English Department Coordinator Keren Robertson said. "So it's not really going to be a big leap for us."
Currently, English teachers meet to calibrate grading for individual assignments and overall course grades.
"At the end of the semester we sit down with our course grades and we basically see … by individual teacher, are you kind of within the average of the course or are you kind of way high or way low," Robertson said.
While not mandated by the policy, the department will continue to work on vertical alignment, that is, aligning courses between grades (for instance, between freshman and sophomore classes). This will involve ensuring that skills learned in earlier grades build foundations for skills used later on. Course teams will also work to ensure new teachers are trained and are working toward alignment.
"We also just really believe that when teachers work together we create better curriculum, and I know for myself I'm a much better teacher because of the conversations I have with my colleagues," Robertson said. "[Alignment] kind of forces you to grow as a teacher."
Language Department
The Foreign Language Department has been working toward alignment for more than 10 years and will continue on toward fully aligning the grading system.
"We are, in the grand scheme of alignment, probably pretty far along in terms of how we do things," Department Coordinator Tiffany Karow said.
Karow says that language teachers are mainly aligned in terms of what assignments and assessments they give within each course. However, grading student work is an area that will be worked in particular on.
"We're pretty much in the ballpark, but now [we're] just trying to come together a little bit more so we have the exact same grading scale," Karow said.
While the board policy only requires alignment within each course, alignment between each level of French and Spanish is a long-term goal of the department, though the teachers do not believe they will necessarily achieve this for the next school year.

History Department
The History Department will be working on aligning grading practices as well as increasing clarity for students about grading and assessment practices.
The teachers will specifically be working on increased calibration of grading and ensuring that all classes are similar in rigor. This will include looking at and comparing the number of assignments given by each teacher.
"We need to go across the board, [so] you can be an A student here and you're [going to be] the very same A student there," Department Coordinator DeeDee Pearce said. "If you were to switch teachers it would still be the same."
The teachers plan to come together to work on projects such as calibrating essays to ensure that grades are given out fairly. However, Pearce worries about time constraints in implementing such changes.
"Time has always been an issue," Pearce said. "I think that if we are given the time and the time is dedicated to these conversations and these discussions … collaboration is going to be nothing but positive for us as professionals and [the] outcome for students too."
Math Department
The Math Department has already begun alignment of grading and will be continuing this work next year as it works to comply with the policy.
"We have done work with grading alignment, so it would be a continuation of that work," Department Coordinator Betty Yamasaki said.
Each course currently has the same grading percentages as well as the same weighted semester grading calculations. Teachers have also already begun meeting to calibrate grading on assessments. This kind of alignment will be continued next year.
"At our last in-service, we examined student assessment to see if we were aligned in our grading of assessments among the teachers in similar courses," Yamasaki said.
Teachers will also continue to work to ensure that the distribution of grades are similar within each course.
"We hope next year, teachers will be given time to collaborate and continue with this task," Yamasaki said.
Science Department
The Science Department has already starting aligning and courses currently share quarter averages. From this basis, the department will work toward further alignment.
"We are constantly making sure we are on track in terms of timing [and] content," Department Coordinator Greg Stoehr said. "We talk to each other all the time."
Science teachers will also be working on increased communication as a means to help the alignment.
"It will definitely take time for people to negotiate things, with lots of conversations and negotiations," Stoehr said.
A problem that the Science Department currently faces is a lack of lab supplies. Stoehr said that there have been cases where there aren't enough materials and only some classes are able to do an assignment, making alignment difficult.
Leave a Comment