Cyrus Gaylord's journey from spring floors to springboards
Flipping, soaring and maneuvering through the air, then coordinating a precise landing—on mat or water—are skills that junior Cyrus Gaylord has been refining nearly his whole life. Although he is currently a varsity diver at Los Altos, his passion for flipping and soaring originally came from his first love: gymnastics.
Cyrus started gymnastics at the age of three, attending children's classes that his mom put him in. As he got older, he not only excelled in gymnastics but also found a place of comfort.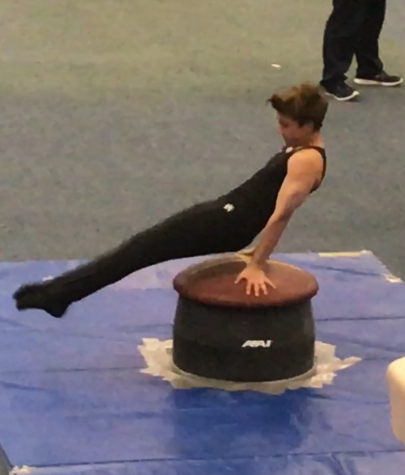 "There were times when I wanted to quit early on, but I'm glad that I stuck with it," Cyrus said. "The community there was one of my favorite things and it was very fun."
He continued to train recreationally and then competitively at Gold Star gym until his freshman year of high school. As a level eight gymnast, he trained four days a week for three hours each day, with his coach later pushing for five days a week for three and a half hours.
"I got to this point where gymnastics was kind of consuming my life," Cyrus said. "It's not a seasonal sport, so I would have it all year round. At that time, gymnastics was the reason why I couldn't pursue any of these other sports."
With all of his time spent training at the gym, Cyrus missed the other sports he enjoyed such as baseball and football. Finally, he decided to stop letting gymnastics get in the way of his other interests.
"My practice schedule was just so rigorous," Cyrus said. "I had to practice almost all the time and I had no free time. I said, 'I can't do this anymore. I've been doing this my entire life.'"
Even though he quit competing in gymnastics, Cyrus wanted to remain a part of the community he grew up with at the gym. So, he dove into a job teaching the sport to eight- to eleven-year-old gymnasts for two years.
"I was very close to my coach and I'd known them for pretty much my entire life," Cyrus said. "I was happy to stay connected to them."
Closing the door to gymnastics opened up a whole slew of new sports for Cyrus, as he was interested in baseball and football, but he ultimately latched onto diving. One of his friends introduced Cyrus to diving after recognizing that his gymnastics aptitude could translate well to diving.
Cyrus tried a diving club at Stanford prior to his freshman year, then joined the school's varsity team, finding the sport to be "a lot less stressful" and more enjoyable.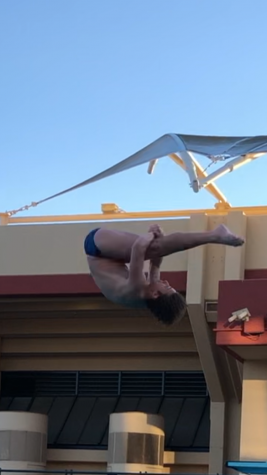 Even though Cyrus went into diving with confidence built from his years of training in gymnastics, he faced the challenge of converting his skills from one sport to another.
For example, one of Cyrus's strengths as a gymnast was quite literally his strength. However, while strength is necessary for diving, flexibility is more important because of the tricky positions that divers must manipulate their bodies in the air.
While gymnastics is commonly believed to be a sport based on flexibility, that belief often stems from the misconception that all gymnastics is like women's gymnastics. On the contrary, whereas flexibility is necessary in male gymnastics, gymnasts like Cyrus rely on their strength to achieve positions without needing to pretzel their bodies.
Another challenge was learning how to deal with orienting his landings in different ways. In gymnastics, Cyrus pushed against gravity by using his strength to launch himself into the air, perfecting the ending of his performance by sticking the landing on his feet. On the flip side, gravity is embraced in diving, which uses the momentum to propel the freefall which must be executed head first.
Cyrus also faced another (less technical) challenge in his transition to diving. Given how uncommon the sport is, Cyrus found that not many people understood what it meant to be a diver, often confusing him for a scuba diver.
"So when I tell people, I'm a diver, they [either say], 'Oh, you're going to go underwater and see fish and stuff' or 'Oh, you swim,'" Cyrus said.
But, instead of being frustrated with the ambiguity of his sport, Cyrus chooses to use the rarity in his favor.
"[It's] something I like because it makes me stand out," Cyrus said. "It's good because I meet a lot of new people through it and I enjoy that."
Besides gaining new relationships through diving, Cyrus also succeeded in working hard to become the top varsity boy diver at Los Altos this year, according to diving coach Alex Wilson. He also reached the final round of the 2019 CCS Diving Championship, placing 12th out of 16 competitors.
"Cyrus is an excellent diver and very talented," Wilson said. "[He] has sort of been unlucky in the sense that there's been an incredibly strong group of males, one to two years older than him that have been keeping those top spots at CCS hostage."
Looking ahead, Cyrus plans on furthering his passion for the sport by diving in college. But for now, he said his goals are to have fun and do his best.