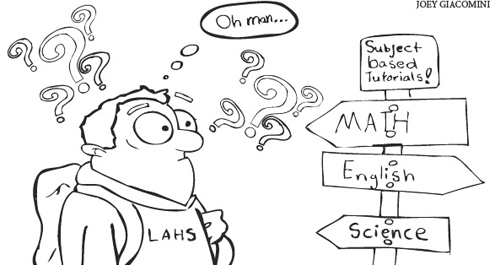 Few students know that tutorial used to be structured differently than it is today. The old, subject-based system was not integrated into students' schedules. Although people complain about Tutorial, in comparison to the old system it is clear that the current system has many benefits.
While many kids abuse the privilege of having tutorial today, they should be grateful for the extra time. In the past they had to find the time on their own.
Six years ago, the school changed its Tutorial system so that on Tuesdays, students would get a free period to work. Prior to the change, the school had many different subject-based tutorial centers held in various classrooms, and students would visit them on their own time to get extra work done.
Story continues below advertisement
These centers allowed students to work with other students and teachers, while teachers would help and discuss questions. They also allowed teachers to be more in sync with their curriculum.
But because of classroom availability issues, the old subject-based tutorial system was replaced.
Some argue that the current tutorial system is inferior in that it is a waste of time. Nevertheless, it is clearly superior to the subject-based system, and the time is actually very helpful for kids who choose to utilize it effectively.
"Most people take Tutorial as a relaxing period, but at the same time it allows those who really want to work, to work," junior José Villanueva said.
Additionally, the current tutorial system provides a much needed break for kids overwhelmed with AP and Honors classes.
"Even if I don't do anything in tutorial, it's a chance to settle down," sophomore David Kirk said. "If the [subject-based tutorial] system was [put into place], I probably would just screw around in them."
The comfort of having the Tuesday tutorial session incorporated into their schedule is also something students prefer over having to reschedule their busy lives to visit a separate subject-based tutorial center.
"During Tutorial, I'm usually working on group projects," sophomore Aditi Jain said. "It helps that everyone has a free tutorial period on Tuesday because it's hard to meet with people outside of school because we're all so busy."
Having a subject-based tutorial center might help some, but the few who want help are the ones already taking advantage of tutorial.
Looking at the pros and cons of both systems, it is clear that the tutorial system now is more beneficial, if students would just recognize it as an opportunity to get ahead.