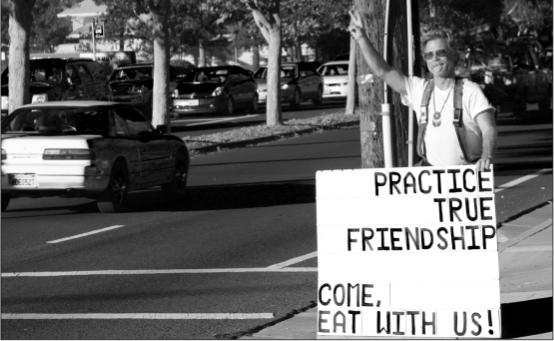 Students have seen it and wondered about the mythical van parked along El Camino Road every so often. Few know the man who stands outside it holding signs and asking passersby to dine with him.
Idea Farm is an organization that devotes itself simply to "connecting people wholesomely." The man with the signs is Idea Farm Organizer Wo'O Ideafarm, who uses signs, dinner conversations and a website as civic speech to spread his message: By coming together as individuals, bonds are formed that can triumph over many modern capitalistic, competitive trends of society.
"[The founders of America] were still products of a Christian culture that basically said, 'Do good, and God will take care of you,'" Ideafarm said. "This culture here doesn't think that way. These people are not thinking, 'Do good, and God will take care of me,' they're thinking, 'I've got mine and if I'm gonna get it it's because I'm gonna get it,' … It's a very defeating culture."
Story continues below advertisement
At a time when some question the morality of society, Ideafarm stresses a simple solution: human bonding.
"It's much more effective to be emotionally bonded to the people you work with and actually care about your bonds so that even if you have a chance to steal you don't steal," Ideafarm said. "Things work a lot better. The problem is complex, but the solution is simple. We need to come together as a people."
Ideafarm recognizes that by standing on the road he arouses people's curiosity. He hopes to use that to get people interested in talking to him over dinner.
"We've got to eat anyway, so let's go to dinner once a week and see what happens," Ideafarm said.
As far as students are when that bubble pops and they become fully-functioning members of society. This is where his dinners come in.
Ideafarm recommends that students question their situation and use the knowledge they gain to better society.
"That's what you people in high school can do," Ideafarm said. "You can start articulating this lesson. You can get out here with signs. You can start going to your parents, 'Hey why don't we have any Mexicans over for dinner ever? Why don't you know any black people? Why are all your friends white?' Those questions hurt when they come from kids; you have tremendous power to change."
Ideafarm beleives that he has reached a lot of people, and highly encourages students to take action.
"I can reach 50,000 people a day with a simple message," Ideafarm said. "That means you can too."
See http://ideafarm.com/ for more information, including scheduling dinners.