Cultural Proficiency Activity to Take Place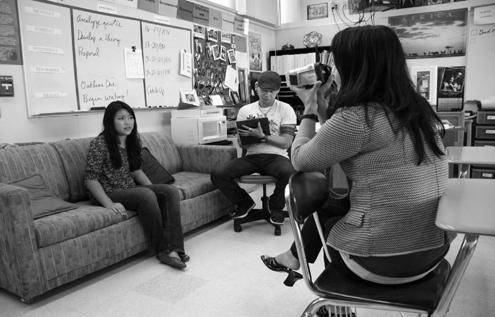 Junior Carolyn Yang and English teachers Jonathan Kwan and Susana Herrera create a film to respond to student division.
The school will screen the Cultural Proficiency Team's new video "Listening to Student Voices" on Monday. Originally titled "From the Hills to the View," the film was postponed last year after a staff vote.
The video has been re-dubbed and re-edited to present a wider spectrum of opinions on many of the topics addressed in the first video.
According to English teacher and film director Susana Herrera, the goal of the Cultural Proficiency team in showing the video is to "get students and teachers and administrators engaged in a conversation about diversity."
"Anything that we do for the Cultural Proficiency Team is to make sure that students hear each others' voices, teachers hear student voices [and] administration [hears, too], because we're here about the kids," Herrera said. "We thought changing the title would help people understand why we're making the film in the first place."
On Tuesday, students will participate in various activities to stimulate discussion about the film.
A special bell schedule has been created for the event. Students will stay in their classrooms after third period on both Monday and Tuesday to watch the movie and participate in discussion activities. Classes will be 40 minutes long.
The 41-minute film will be shown on Monday, and then students will complete individual reflections. Teachers may choose between multiple activities for Tuesday's discussion. According to English teacher and film counselor and consultant Jonathan Kwan, these include a Socratic seminar, a "Cross the Line" activity, an "art-based activity" and an article synthesis, among others.
Kwan said that the discussion is "the heart of the lesson."
"The film is not about the film, it's about the conversations that we have after," English teacher and film editor Ryan Ikeda said. "It's about listening to each other and listening particularly to the stories that we have. … It's more about creating a campus that is open where people listen."
The postponement of the film last school year was a result of the staff not feeling prepared for the activity, according to Principal Wynne Satterwhite.
"It's really important for the student body to enter this adventure with really an open mind," Satterwhite said. "We didn't want to do something and not do it well."
The film was originally meant to be screened last school year on Friday, May 1 but was postponed after a teacher vote on Wednesday, April 29.
"When they said they wouldn't show the video I was mad," junior José Villanueva said. "What angered me even further was that teachers were saying they were not prepared to lead discussions in class. This was almost an insult to me because they are saying that as students we are not capable of leading effective discussions without their guidance."
In late September, the new video was viewed only by the school staff.
In preparation for "Listening to Student Voices," three staff development days have been spent in anticipation for the film's showing.
"We modeled a Socratic seminar," Kwan said. "[History teacher Gabriel] Stewart led it, and participants were from all disciplines. … We really just had a conversation. So for those that felt a little bit more uncomfortable with facilitating a discussion of this nature, it really helped them visualize what [the process] could potentially look like."
"Listening to Student Voices" is the third film that has been created by the Cultural Proficiency Team, among which are "Student Voices" in 2005 and "Power of Words" in 2007.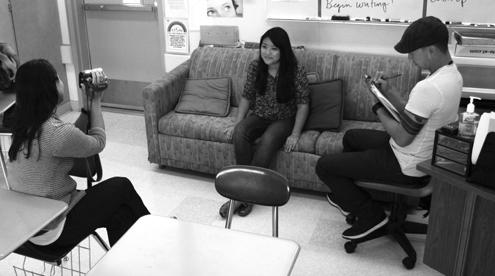 Junior Carolyn Yang (center) is interviewed for the new 'Listening to Student Voices' video which premieres Monday.
The film crew, consisting of Herrera, Kwan and Ikeda, has spent a total of over 500 hours editing, directing and putting together the film.
"They really poured their heart and soul into it," Satterwhite said. "They really want to make sure students have a voice in this high school."
Camp Everytown participants will host a "Rainbow Lunch" on Tuesday, November 17 encouraging students to stay on campus. They will promote the term "rainbow," which means "mix it up," according to Kwan.
The "rainbow" concept originated from the camp, which was a four-day diversity retreat held in Boulder Creek between Wednesday, October 7 and Saturday, October 10.
"What we're trying to do is get students to mix it up by gender, mix it up by race, mix it up by socioeconomic class, mix it up by language," Kwan said. "We don't just want to encourage people to mix it up, we want people to mix [together]."
The Cultural Proficiency Team hopes that the film and the subsequent activities will encourage students to share their stories as well as listen to those of their peers.
Junior Jacob Valadez said that the experience of participating in the film has helped him open up about these issues.
"I'm not really an open guy necessarily, so it was pretty difficult, but I thought it was an important enough issue that I had to say something," Jacob said. "Mr. Ikeda, Ms. Herrera [and] Mr. Kwan just did all the editing and asked questions, but we're the ones that are telling our stories. I didn't say it to prove something to the teachers, I did it to show everyone else in the school."
The creators of the film hope that the film and following activities will help to strengthen communication between students at the school.
"By understanding each other we feel like we have a place [and that] we're accepted and wanted." Herrera said. "If we can have those conversations it breaks down the barriers between us and it helps us become a community together."
Leave a Comment