Cross Country Shines in State Meet
The boys and girls cross country teams competed at the state meet in Fresno, California, on Saturday, November 24. Up to this point, the boys cross country team had contended at the state competition twice before and this meet was its third state appearance. Additionally, the girls team made the state competition in 2007. However, for the first time in school history, both the boys and girls teams competed in the race.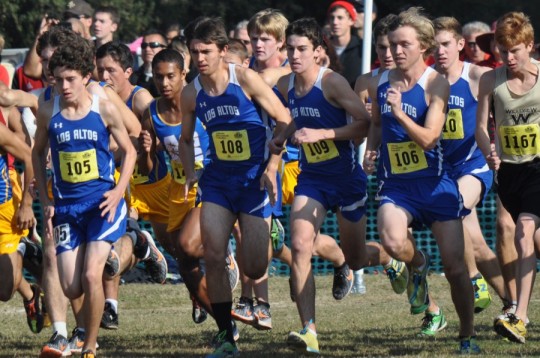 Both boys and girls teams performed impressively, placing 9th and 16th respectively. This top-10 finish for the boys team marked substantial improvement from previous state finishes, which stood at 16th place in 2010 and 18th place in 2011.
Senior Alex Carr, who clocked a 16:17 finish on the 3.1 mile course, attributed this improvement in part to the team's rigorous yet structured training regimen. While cross country appears to be a rather simple sport, the runners undergo a great amount of structured coaching like any other high level athletes.
"We began on June 15 and have been going Monday through Saturday since then," Alex said. "Our coach has given us every workout and managed mileage we completed to prevent injuries and improve our times."
The boys team entered the meet coming off of a first place finish in CCS. With that impressive finish in the books, the team looked to continue its momentum, and not become complacent due to its previous success.
"Just because we were the top team in our section didn't mean that our season was over," Alex said. "We had already been predicted to place in the top 10 so we couldn't disappoint."
The girls also defied the odds and took third place in CCS, qualifying them for states as well. While motivation for the girls team may have appeared to diminish following its performance at CCS, the team continued to put their best efforts forward.
"CCS was easier to push yourself as hard as possible because the goal of going to state was within reach, but with competing at state we knew we had little chance of making the top ten like the guys did," senior Claire Bowie said. " But I think everyone went out there and pushed themselves as hard as they could regardless."
Similarly to other individual sports, cross country teams at major competitions consist of a small group of the team's elite athletes. In the case of cross country, teams typically consist of seven runners, with the first five finishers counting towards the team's score. However, in the event of a tie in scores, the times of the sixth and seventh runners will be taken into consideration.
"No matter where you stand in the seven runners, you matter very much to the team, and you should always run your hardest no matter what," Alex said.
Running related injuries such as stress fractures can be a runner's worst nightmare, but Claire acknowledged the importance of perseverance during events of significance. This mental grit shared by all members of the team allowed the Eagles to pull through with remarkable results.
"Running is a sport that combines physical and mental toughness and it is completely up to the runner to decide whether they are going to do their best and make it hurt or jog it out," Claire said. "I would especially like to point out [junior] Wendy [Wu], who had been suffering from sudden shin and ankle pain a few days before and the day of the race toughed it out.
While the majority of this elite group of runners consisted of seniors, the team will certainly be able to compensate for their absence. With promising additions to the team such as freshmen Lauren Jacob, Sierra Townsend and Ben Zaeske, who finished with times of 18:31, 21:50, and 16:33 respectively, the future for Los Altos' cross country teams appears limitless.

[Photo Courtesy Andy Cohen]
Leave a Comment