Cross country team makes history at the CIF-CCS Championships
The varsity cross country team is creating a lasting legacy as their season nears its end. After the varsity girls team placed third and the varsity boys team placed first at last week's SCVAL meet, adrenaline was racing and hearts were pounding in anticipation of this weekend's CCS meet.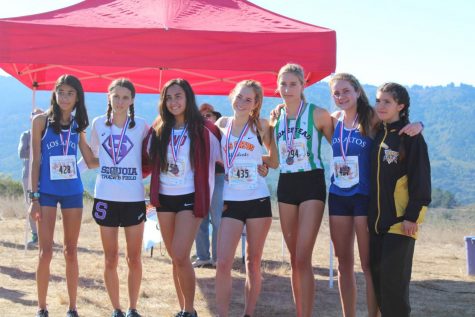 On Saturday, November 16, the athletes headed to the Crystal Springs course in Belmont. Despite several illnesses and injuries, multiple individuals broke their personal records and the boys team broke a school record set over four decades ago.
In the first race of the day, freshman Lauren Soobrian crushed the competition, running a time of 17:58 on the hilly 2.95-mile course. Even after battling a stomach virus all week, she finished first out of 133 runners to become the 2019 CCS Division 1 Cross Country Champion and secure the top qualifying spot to the CIF-State Cross Country Championship meet. 
"I feel good, and I feel really prepared," Lauren said. "The team gave me the confidence through my training for the upcoming meets."
Another impressive finish came from sophomore Riley Capuano. She placed seventh in the Division 1 varsity girls race with a time of 18:35, breaking her personal record by 54 seconds. Unfortunately, Riley missed qualifying to the State meet by just two spots. 
"Considering this is Riley's first season of cross country ever, we know she will be back next year even stronger," head coach Steph Mackenzie said. 
In fact, Riley's performance was so powerful that it brought Mackenzie to tears. "The girls team as a whole had an outstanding day and performed far above expectations," the proud coach said.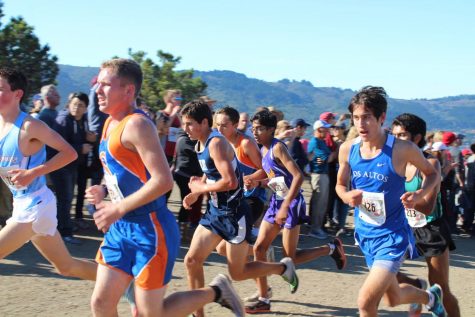 The varsity girls team continued to impress, placing fourth in the Division 1 race and coming within four seconds of the school record with a combined time of 97:28. Sophomores Sarah Kostka and Shelli Lewis both ran personal records for 23rd and 54th place, respectively. Junior Suzanne Guo ran almost a minute faster than she did at last week's SCVAL meet to place 72nd, and freshman Raquel Susko finished in 74th place for another personal record. Senior Kat Nasif placed 98th with her second fastest time of the season.
As the morning progressed, it turned out to be a successful day on the boys side as well. The boys varsity team placed second after Bellarmine in the Division 1 race, securing them a spot at the State meet. The boys ran a combined time of 80:49, breaking the previous school record—set in 1972—by seven seconds.
Senior Adam Sage finished in second place out of 131 runners with a personal record of 15:23. Mackenzie said that Adam will be looking to place in the top 20 and possibly break the school record at the State meet.
"[It's] really exciting because those Bellarmine kids are really fast and I was a little worried about them going into the race," Adam said. "I didn't have any clue how that race was going to finish until the very end, but I was glad that I was able to pick it up."
Back on track after a foot injury, junior Kevin Andrews placed 13th with a time of 16:02. Mackenzie noted that pack running clearly helped the boys team, as freshman Boden Sirey ran a personal record and placed 23rd while junior Collin Hepworth, who also ran a personal record, came in right behind in 24th place. Senior Daniel Ghasemfar placed 30th, junior Hans Holst placed 31st with a personal record and senior Adam Cohan ran another personal record to finish in 36th place.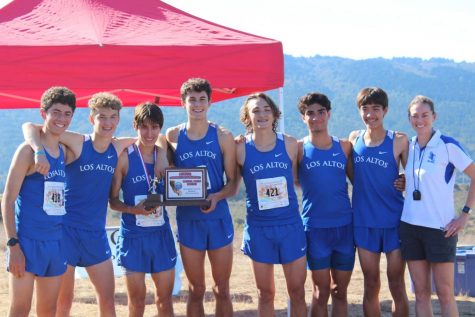 As the athletes took team photos and accepted their medals and plaques at the awards ceremony, they were visibly bursting with pride and excitement.
"Cross country is a community—it's given me everything," said Daniel. "For the third year in a row, we made it to States, and I could not be happier."
The CIF-State Cross Country Championships will take place on Saturday, November 30, at Woodward Park in Fresno. The team will spend the next two weeks preparing to race against the best high school runners in the state, and after their performances this weekend, the Los Altos athletes are in a position to continue making history.