Cross Country Comes Together for Success
It is often hard to tell whether cross country is a team sport or an individual one. From an outside perspective, it looks solitary ― nobody runs attached to anyone else, and there's no ball to pass or synchronization in the movements. But anyone on the team will tell you the exact opposite. This year, more than ever, the individual runners are coming together as one unit.
"The individual results are nice, but that's not what you're running for," co-captain senior Andreas Godderis said. "You're running for the team. "
The goal this year is to be top three in CCS, which will qualify the team for the state championships. They've done it before, but injuries early in the pre-season conditioning slowed the team down significantly. While most of the runners have since recovered, the threat of a hurt knee or a damaged leg still hovers over the athletes.
"This team has so much potential," Andreas said. "I just hope everyone is healthy."
The varsity team suffered serious losses; on the boys' side, four out of seven of last year's top runners are no longer running with Los Altos, either due to graduation or moving, and co-captain senior Ben Zaeske estimates that more than half of the top runners of this season suffered the effects of long distance running during the late summer.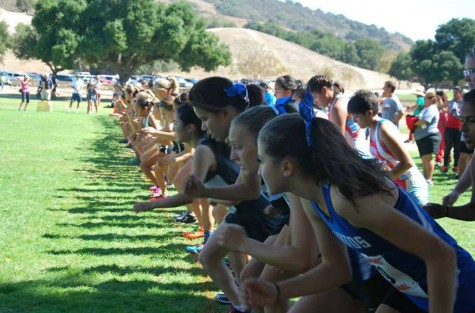 "We actually have a really young team this year," Ben said. "But I think a lot of us [have struggled" with injuries and mileage."
However, the team remains optimistic and continues to work hard. Many of the athletes have been running on grass to keep in shape and avoid injuries. Their coach, Andrew Zaeske, introduced a new core-strengthening regimen to keep other running-related muscles fit and strong, and the athletes have been using "speed ladders" to develop their fast-twitch muscles.
But the real focus this year is on unity and team dedication.
"We've been together through thick and thin, through the hardest workouts," junior Britt de Visser said. "We get along very well."
A team-oriented mentality does not just improve the social aspect of the sport ― it also improves results. Due to the scoring system at meets, big jumps in lower position can help the team more than small jumps at a higher level: if a runner gets first instead of second, that's only a one-point difference. But finishing 60th instead of 80th gives the team a 20-point boost.
"It's the back of the team that really counts," Andreas said. "If you can convince the other guys that they're the important ones, they'll run a lot faster."
The team's unified focus, coupled with the new conditioning exercises, seems to be paying off. At their first meet, the boys and the girls placed eighth and fourth out of 13, respectively, despite lacking some of their top runners.
Once again, cross country is looking forward to a strong season together.
"We're all really supportive of each other," Britt said. "People say cross country isn't a team sport, but it totally is."
Leave a Comment