Creative Writing class debuts at Los Altos
Earlier this semester, Los Altos began to offer its first-ever Creative Writing class. Co-taught by author and school librarian Gordon Jack and skills teacher Anne Battle, this class meets during first period in the library.  
For the first few weeks of the class, students explore different ways to expand their writing skills and spark their imagination by reading works from various authors, freewriting with creative writing prompts or even just closing their eyes and daydreaming. Students then choose an individual project to work on for the rest of the semester.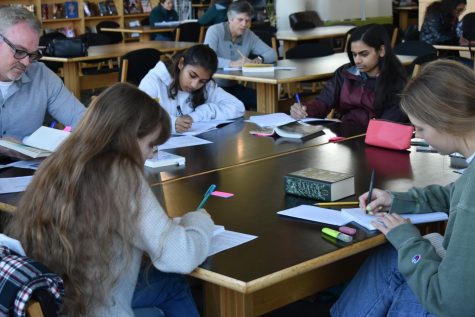 Individualized work is one of the key features of this class: the curriculum is adjusted to whatever projects students wish to work on. 
"There's one student who's interested in writing a screenplay, another person who wants to work on their novel, and another has a collection of stories, so everyone is coming to class with different things that they want to work on," Jack said. 
Although this is technically a writing class, the curriculum aims to emphasize reading just as much as writing. 
"Being a good writer depends on you being a good reader," Jack said. "If I want to write humorous fiction, then I should be reading humorous fiction and really looking at the craft."
The class counts for elective credit. Grading is based on attendance and participation. 
Because the library is the only available space for this class, the class size is limited to 8-10 students. Students were originally notified about this course option for second semester on the morning announcements after the district approved the class in the fall. According to Jack, since more students signed up than they could fit, priority was given to seniors as well as students who have a free first period. 
Nevertheless, Battle looks forward to working in a focused and intimate setting. 
"With such a small class, we can build a tight community which just adds to the fun of it all," Battle said. 
Senior Charlotte Zhang enjoys the close-knit atmosphere, compared to an English class with more pressure to perform academically.
"This class feels like a club," Charlotte said. "We don't have assigned reading or homework. The people are really encouraging and we can focus on readings and writings that we like."
According to Jack, his experience as a published author definitely drives the way he teaches the class. 
"What I've learned from being a writer is that you have to do multiple, multiple drafts," Jack said. "That's what we really want the class to be focused around. We're going to be doing a lot of free writing, and then a lot of feedback and a lot of revising."
One of the main goals for this group of writers is to encourage them to publicize their work. Jack hopes to advertise opportunities to compete in writing contests as well as collaborate with the Literary Magazine to publish their writing. 
Both Battle and Jack have expressed their excitement about the opportunity to teach creative writing, something that isn't regularly encouraged at Los Altos. 
"My goal for this class is to make reading and writing fun," Battle said. "I can teach how to play with language, take risks and grow as both a reader and writer."