Cream Puffs
December 12, 2021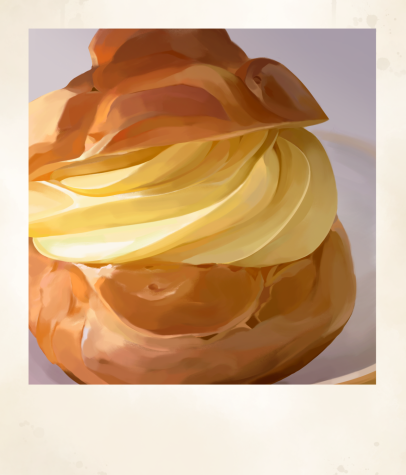 Junior Alice Gerchanovksy's favorite part of the holidays is not only the gray and cloudy weather — a respite from near-constant sunshine — but the opportunities to send custom, heartfelt gifts to her friends. Her untraditional take on presents includes mailing packages of handwritten notes, recipes, sketches, teabags and printed playlists in the post.
Alice recommends the cream puff recipe for its simplicity. Although the puffs only require a few steps and ingredients, they still yield a sophisticated, aesthetic and delicious result, she explained.
"[The recipe] is the best thing to bake," Alice said. "It's easy, but people are still impressed by it. I guess that's the thing with pastries."
Her family immigrated from the Soviet Union, where celebrating Christmas is discouraged. Instead, they celebrate New Year's among a tightly knit community of other Slavic immigrants. For Alice, New Year's Eve is more than just a celebration: it marks her favorite night of the year and a treasured holiday tradition spent alongside lifelong friends.
Ingredients:
1 cup water
6 tbsps. butter
½ cup milk
½ tsp. salt
1 cup flour
4 eggs
Instructions:
Preheat the oven to 400 degrees.
Mix the water, butter, milk and salt in a saucepan over medium-high heat until the butter melts.
When the mixture starts boiling, mix in one cup of flour, then let cool.
Add 4 eggs to the mixture one at a time, making sure to mix well after each egg is added.
Pipe the batter onto a sheet into one-inch circles and bake for 20–25 minutes. Make sure the batter is fully cooked through so the puffs don't collapse after cooling.
Pipe puffs with whipped cream, pastry cream or frosting.