I would say quite a few people asked me where I was from as I was walking through San Francisco—they weren't expecting me to be a Bay Area native. The objective of this trip: a good food court and a giant Christmas tree.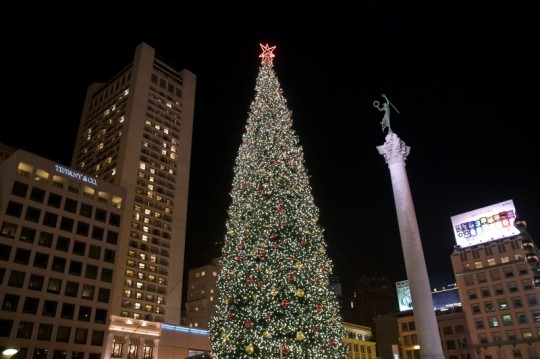 The Macy's Christmas Tree decorated in Union Square is an annual holiday attraction. My friend and I took the Caltrain up to 4th Street, but you could also take the BART and get off at Embarcadero. The walk from the Caltrain station wasn't far at all, and quite refreshing as well. On the walk over, we passed by an indie-looking bookstore and a really large target—both shops you can't find here.
Before we went to the tree, we ate on the ground floor of the San Francisco Westfield. I love eating here because you always get extremely good quality food—not McDonalds or Sbarro's—for a decent price in comparison to other cafes and restaurants in Union Square. I ate Korean Barbeque, and as a vegetarian, I love this place. Normally, I worry that I won't be full from just vegetables or that I'll have to manipulate the menu to not just get a salad, but at the Korean Barbeque place I got a huge serving of spicy tofu, clear noodles and brown rice, all for under $10.
After eating and browsing (and getting yelled at by a crazy man for not using the escalator properly—all we were doing was standing on one side!), we left to see the tree. Unfortunately, the rain limited the amount of pictures we got to take, but it was, nevertheless, beautiful as always.
I highly recommend taking the train up to San Francisco over the break. (If you are under seventeen you can buy tickets at a discounted price on the Caltrain, just click eligible discount when you are buying them and bring some proof of your age—and no it doesn't need to be a birth certificate.) What I love about taking trips up to San Francisco is that in spite of the fact that I can't afford much in Union Square on my own, the shopping area is so beautiful it's just exciting to appreciate the beauty of the town and go on a little adventure—you never know who you might meet, who will be performing, what store you'll stumble upon, or most importantly, what samples you are going to get.
Story continues below advertisement
Image source: sanfrancisco.about.com