Countdown to Christmas Day Twenty-One: Ornament Cupcakes
Another recipe idea for you before Christmas arrives: ornament cupcakes. These adorable cupcakes are super easy to make and allow you to dip into your creative side. They make a festive holiday treat and in my eyes, are the step up from Christmas sugar cookies (although those are a classic must-do).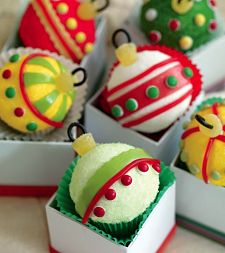 For these cupcakes, make a regular sized cupcake in the flavor of your choice. In this case, white frosting works well, so vanilla cupcakes may be easier, however any flavor will work well.  Once you have made the cupcakes, ice them in white frosting and roll them in white or any other color of sprinkles. Just a tip–make sure the sprinkles are of the very fine, dust variety, because it makes the cupcakes look like they are sparkling.
After the cupcakes are frosted and sprinkled, add decorations that will make them look like ornaments. These decorations could include anything from gummy rope to small, edible gold balls. Refer to the picture above for more ideas.
Then, add a half of a gumdrop to mark the top of the ornament and stick a little loop of black gummy for your to "hang" the ornament from.
I hope you have fun making these, and once again, happy holidays!
Image source: onecrazyladie.blogspot.com
Leave a Comment