Christmas is coming up and that means decorations decorations decorations. Although many people get a big tree with lots of ornaments and lights, a tree is not the only way to bring festivity to a house or room. A lot of people just don't have the time or expense accounts to go out purchase, put up and decorate a giant tree.
However, some people can never get enough of that Christmas tree glow in each room. If this applies to you, try a mini tree, complete with the same lights and decorations. You can place one in any room and store it every year to bring out just for the holidays. You just need to find one time to decorate and from then on all you have to do is pull it out and find the perfect location.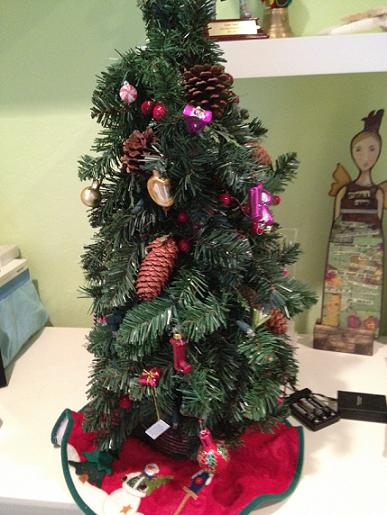 Story continues below advertisement
How to:
Go to a craft store; I personally find that Michael's has just about everything, and buy an undecorated Christmas tree of your desired size. The one I have is about two feet tall. Then tour the store and pick out your favorite ornaments—or check out some fun ways to make your own—and a string of lights that is connected battery pack (that way all you have to do is turn a switch, no plug needed). You can even get a mini tree skirt to put under your tree and a small star topper for the top of your tree.
If you are looking for a less flashy tree, get some fake cranberry strings and some solid, gold balls. Also make sure that your lights are not of the colored variety. If you are interested in a sparkly and eye-catching tree, try to pick ornaments of all shapes and sizes and pair them with a colorful string of lights.
The one I have is made by a friend who decided to add both flashy ornaments and pine cones, combining two of the "looks" together. I love to bring it out every single year and stick it on my shelf to add a little bit of Christmas to my room.
When you are making your own tree, use hot glue to make sure that it all holds together. Mine has stayed intact for around 4 years and still shows no signs of falling apart. Once everything is dried and looking the way you want, find a place to put your tree and enjoy!
Image by Carly Cohen