Costume Enthusiast Fights School Monotony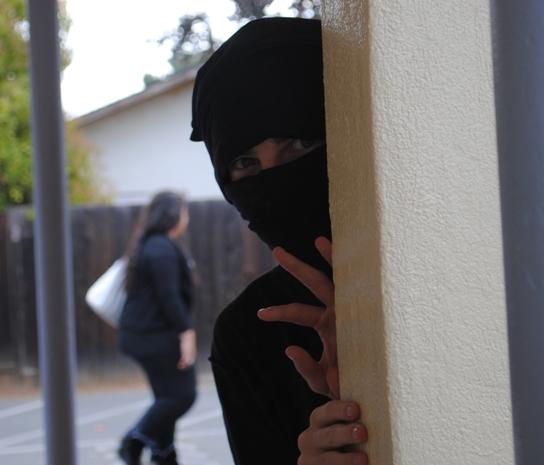 ---
Every Friday, fanciful characters from our fantasies invade the school. A stealthy ninja stalks the English wing, a pirate cries for booty in chemistry class, and a cowboy kindly tips his hat at passerby. All three are the same person—a man on a mission against monotony. Sophomore Brandon Blackman comes to school every Friday decked out in a costume and acts in character for the whole day.
Reactions to Brandon's appearances have been mostly positive. While there are a few naysayers who are weirded out by Brandon's costumes, Brandon has felt a lot of acceptance and support from students.
"You'll get the people who are like 'You're awesome, I love you,'" Brandon said. "Then you get the people who are like 'You're a weirdo,' but generally people have liked it."
Brandon cites the dull routine of high school life as a motivator to do something quirky on Fridays. Bored of the monotonous routine of school life, Brandon decided to start wearing costumes after he discovered his father's old giant pantaloons and realized the fun that costumes offer.
"I figured I might as well spice it up a bit for myself and for others," Brandon said.
Brandon's teachers are supportive of him as well. Chemistry teacher Danielle Paige was so enthusiastic about Brandon's masquerading that she joined him in costumed camaderie on the day he was a pirate; she taught that day dressed up as Captain Feathersword, a pirate from the TV show "The Wiggles."
"My third period class is definitely the most lively class because of it," Paige said.
Another student joined Brandon as well. Sophomore Neal Kenney donned ninja robes with Brandon on his "act like a ninja" day. Brandon is enthused at the possibility of this movement growing larger. He has been raising publicity about his dress-up days and trying to increase participation. Brandon hopes other people will join him to spice Fridays up as well, as the whole point is raising school spirit. School-wide super-casual Fridays would certainly lighten the mood and add some spontaneity to the high school routine.
"I'll do this until I run out of ideas, which is hopefully never," Brandon said.
Leave a Comment