Cosplayers Gear Up for Convention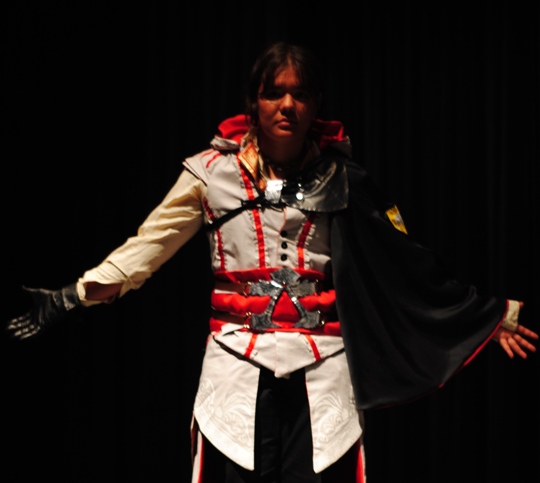 Halloween doesn't even come close to the art of cosplay.
Coming from the Japanese word Kosupure, cosplay is the act of dressing up as a character from any anime, videogame, manga, movie or book. Cosplaying and Halloween are similar in that aspect, but they differ in that costumes for cosplayers are almost always homemade and, depending on how elaborate they are, the costumes usually take a fair amount of time to make.
For cosplayers, there is one main reason that they go through this process of preparing costumes—the annual Fanime Convention. Every Memorial Day weekend, the Fanime Convention is held at the San Jose McEnery Convention Center in downtown San Jose. This year, the convention will take place over four days from Friday, May 27 to Monday, May 30. On the first day of the convention, many people sell hand—made crafts such as art, T-shirts and buttons. There are also many events ranging from video programming to art and music, and even a dance, the popular Black and White Ball. Prior to the dance, lessons are given and everyone is encouraged to attend.
"Everyone's terrible at dancing," junior Alyssa Waln said. "But it's okay because since everyone is, it's not awkward. You're having fun. You mess up, you laugh and move on."
Alyssa said that it's not unusual for people to come up to you and take a picture of you because they like your costume. The best part about that is the friendship that is quickly formed because you'll share something in common with that person.
This year will be Alyssa's second time attending the Fanime Convention. She started watching anime at the age of 12 or 13 and for her, cosplay is a great way to incorporate her love for anime and creating costumes.
"Even as a kid, I did a lot of Halloween costumes every year," Alyssa said. "And then I got into watching anime and reading manga. I realized people did Fanime and that I could do costumes with this too."
Her costume for this year's convention is Ezio Auditore from the videogame Assassin's Creed 2, (seen in photo). She has been working on her costume since school started and is still not finished. She said she still has to add on a couple finishing touches.
For junior Jenny Jou, another cosplayer preparing for the convention, the whole experience is worthwhile.
"In my opinion, the best part [of the convention and cosplay] is the people," Jenny said. "You meet so many funny and nice people doing this, and you all share the same interest. It's such a wonderful community."
Cosplay is not the most well-known hobby at school and Alyssa said that it's usually a smaller group of people who cosplay.
"But at Fanime…all of a sudden, they have this place where they belong and there's this incredible sense of community because you're able to connect with so many other people who like the same thing," Alyssa said.
Jenny said she doesn't find cosplay any different from any other hobbies.
"Liking [anime or cosplay] isn't fundamentally different from liking a book or movie," Jenny said. "They tell stories. They're entertainment. I don't see why liking something that is drawn should be any different."
Cosplay is like any other hobby where people share and bond over similar ideas and interests. While some people might be talking about the latest scores and games, cosplayers are talking about the latest part of their costume they've finished or characters from an anime show.
Leave a Comment