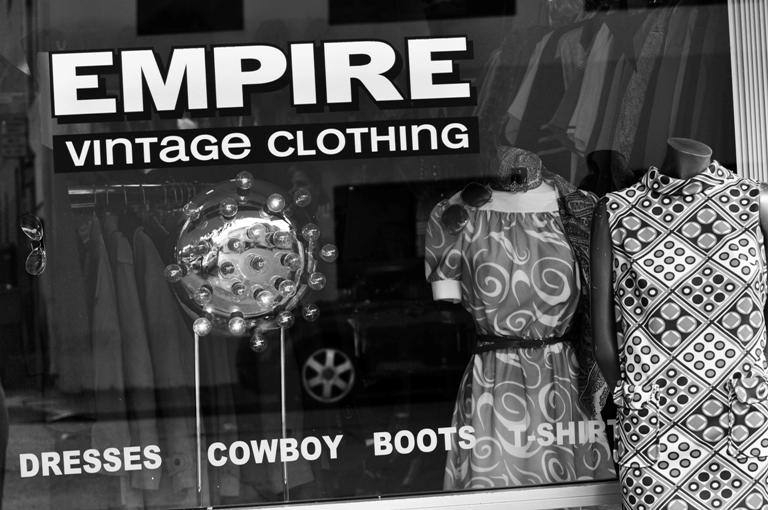 Some of us get sick of our clothes after the first few washes. Others have a hard time finding the right cowboy boots or patterned tie to splurge on. Either way, thrift and vintage clothing stores give people the chance to find something original and new to wear—even if it means that those first few washes may not be firsts.
Empire Vintage Clothing
Stepping into Empire Vintage Clothing is like stepping back in time, or so the store's pacifying music and racks of eclectic 40s, 50s, 60s, 70s and 80s fashions seem to suggest. The year-old vintage hub, located on 443 Waverley Street in downtown Palo Alto, differs from most thrift stores in that it sells hand-selected merchandise that is traded for or bought by store owner Tiffany Gush.
Story continues below advertisement
Although the word vintage may make you picture the clothes in your grandmother's closet, this is far from true. The store is home to almost every type of imaginable accessory, costume or bag. From wigs, stick-on facial hair and boas to wallets, tuxedos and bow ties, the store's variety is part of its charm. Empire's walls are adorned with racks of cardigans arranged according to shade and style. Topper hats, silky velvet hippie purses and cowboy boots satisfy every type of vintage craving.
"Our customer is a person who wants to be unique and has a hip sense of style," Gush said. "We cater towards everybody, [and] everybody comes in here."
The store's clothing, Gush said, parallels modern fashion, giving its wearers the sense that they are dressed in one-of-a-kind pieces.
"It's nostalgic and really fun to wear," Gush said. "Its 'vintage' is a great conversation starter."
Prices range from $15 sunglasses to $50 prom or costume dresses. Half of Empire offers men's clothing, ranging from modern flannels to 60s disco suits. The other half accommodates women's sweaters, scarves and glittery party dresses.
"It's cool because nobody else gets to wear your dress," Gush said. "Vintage is one-of-a-kind, you're the only one who gets to have it. It's the thrill of the hunt."
Empire offers a 10 percent discount to any current student with I.D., along with a multitude of other sale prices given to those who join the store's Facebook group. Store hours are from 12 p.m. to 7 p.m. everyday of the week except on Tuesdays when Empire is closed.
Répéter Consignment
Four years ago, sisters Kara and Kellee Breaux chose to open Répéter, a modern and trendy consignment store located on 308 State Street in downtown Los Altos. The shop, filled with funky jewelery, designer bags and an assortment of denim and dressy clothing, targets clientele with high-end fashion tastes. Répéter is a consignment store, meaning that it sells individuals items for a 60 percent profit. The seller of the garment or accessory being purchased receives 40 percent of the selling price.
The eclectic boutique is anything but your ordinary thrift or used clothing store—Répéter looks like a store that came right out of a high-end fashion magazine. Colored jewels hang from the store's ceiling, ribbons line the walls and a chocolate and pink color scheme drives every other type of decor. An antique set of white furniture greets those who enter the consignment store, and a stack of Men's magazines is ready to entertain any bored husbands waiting while their wives shop.
Répéter is a place for customers with good taste in discounted designer fashion. The Louis Vuitton, Coach, Juicy, Chanel and Burberry purses which line the store's walls surely fit in. Gold-rimmed mirrors reflect the heels of cowboy and leather boots, Betsey Johnson pumps and Jimmy Choo heels. Every nook and cranny of the shop is accessorized with wallets, scarves and jewelery—from cute earrings to bracelets and necklaces. Répéter's walls are lined with racks of color-coded coats, sweaters, and shirts to provide customers with easy shopping.
Although the garments sold at Répéter may be geared toward slightly older women, the accessories are modern and fit for any teenager with an eye for style.
Prices may seem steep but for the designer wear often available at the store, there are reasonable discounts.
Répéter is open from Tuesday to Saturday from 11 a.m. to 6 p.m.