'Community' fails to amuse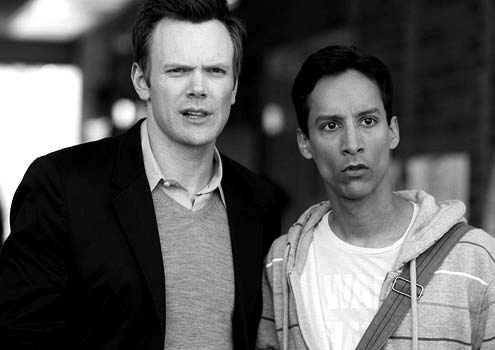 Joel McHale and Danny Pudi star as students in NBC's new series 'Community.'
Every Thursday at 8 p.m. on NBC, "Community" takes place at Greendale Community College. The story focuses on former lawyer Jeff Winger (Joel McHale) whose law license has recently been suspended because of his illegitimate background in education.
Jeff hopes to finish some credits at his local community college in order to gain back his credential. He notices Britta (Gillian Jacobs), an attractive girl from his Spanish class and lies that he is a specially trained Spanish tutor in order to impress her. Already the viewers know that Jeff lies in order to get what he wants, but his motivation to do so is unclear.
The show plays off of the stereotype that community colleges are for "losers, remedial teens, 20-something drop-outs, middle-aged divorcees and old people." There is a diverse student body of the nerdy mind-jumbled tag-along, the creepy old man, the drug-addicted drop-out and the football jock who couldn't make it to a university.
The awkwardness and feuds between the characters are supposed to make the show funny, but no such attempts are successful. Lame jokes and forced sexual innuendos just make the show fall into a sporadic mess.
The show seems to prove that Jeff needs to be honest, but that seems to be it. There really is no point. This quirky show leaves viewers with more eyebrow raises than laughs. A second season would quite frankly be a miracle.
Humor: .5 out of 5
Story: 1 out of 5
Acting: 2 out of 5
Leave a Comment