Color Guard Often Misunderstood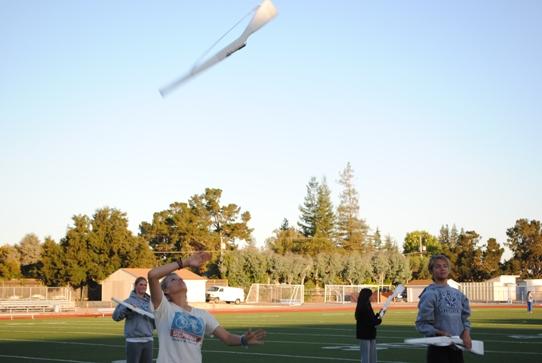 Any student who is unfortunate enough to have a zero period can testify to how hard it is to wake up in the morning, especially when the gloomy dark sky challenges every optimistic thought about the day. However, the dedicated members of color guard do it every morning without complaining because they love what they do.
What many people don't know is that the purpose of color guard is to serve as a visual addition to marching band. Members spin flags, rifles and sabers, timing their actions to match the music. While marching band may play the music, the guard represents the emotion the music conveys.
"We make marching band more interesting to watch," color guard co-captain senior Mariela Rodriguez said. "Color guard is what gives life and color and prettiness [to marching band performances]. There would just be music without it."
A normal practice day consists of stretching and running with the band, and then separating to rehearse and practice on their own. On Saturdays, members sometimes practice for 12 hours at a time, from 9 a.m. to 9 p.m.
The incredible amount of dedication needed for color guard may seem overwhelming, and practice is difficult. Members are careful when tossing rifles and flags because they are heavy and can injure members if caught incorrectly.
The most important aspect of flag and rifle work is to make sure that it corresponds with the music beat by beat, and everyone needs to stay in sync.
"If there is some delay, it can ruin the visual that the whole color guard makes," color guard member senior Brenda Navarro said.
Color guard members also use dot books, which have pages that mark where they should be on the field on a certain count of music.
"I feel like we're unique because it's not really like any other activity on campus," color guard co-captain Neha Rathaur said. "Guard combines marching on the field; you march, you perform to the audience, you're spinning your equipment, you have to go along with the music, it's just like a lot of different acts put together into one activity."
Even though the members of color guard enjoy their activity, they lose family time and it is often hard for friends and other students to understand why members would put so much time and effort into color guard.
While a majority of students like sophomore Lauren Waller may view color guard as "interesting, but a little pointless," they often don't understand the hard work it takes.
After hearing about the long practice hours and the activities that color guard combines, sophomore Caroline Deng said that "it seems a lot harder than I expected."
Although it's a major time commitment, members are motivated and look forward to performances where their hard work pays off.
Even during its performances, color guard has the support of the band. Given the small size of the color guard, members are both able to form close bonds within their team as well as to have the support of marching band. Experience level doesn't matter in color guard, and members gain many friends from marching band.
Whether it's learning new routines, staying in unison or performing, the color guard is always excited to improve.
"Color guard is always something good to look forward to," Mariela said. "Getting on the field is the most amazing thing."
Leave a Comment