Which Coffee Shop Are You?
Tut's Bakery and Cafe
535 Bryant St, Palo Alto, CA 94301
You are creative with a variety of talents! Like Tut's Bakery and Cafe, you offer more than what just meets the eye, serving a variety of freshly baked new ideas. You are more sophisticated than people think but stay true to who you are instead of just following the crowd.
Tut's Bakery and Cafe serves a variety of pastries served alongside coffee. Tucked in the backs of Palo Alto, it has created a cozy environment with a minimalist look. Fairly reasonable and casual, it is the perfect spot for a lazy weekend morning or a casual lunch.
Recommendations: Greek Style Pancakes, Roast Eggplant Sandwich, Fresh fruit tarts
Sue's Gallery Cafe
14665 Big Basin Way, Saratoga, CA 95070
You are the "cool" one, the one that everybody comes to ask about the newest celebrity gossip or hottest trends. You are often seen going to the city to satisfy your adoring Instagram fans, in fact, you were a tumblr girl back in the day!
Sue's Gallery Cafe is a bit on the pricier side but for a good reason. Serving a variety of treats, tea and (of course) coffee, Sue's artistic atmosphere will make you feel as if you're in the country of France, wanting to stay there for hours.
Recommendations: Matcha Latte, Yuzu toast, Iced Latte

Flickr user saaleha
Blue Bottle
(multiple locations) 456 University Ave, Palo Alto, CA 94301
You are the hipster, the one who reads Rupi Kaur and spends their birthday money on avocado toast. Your body is made of kombucha and your writing is so profound that AP Lang has nothing on you.
Blue Bottle is the coveted chain of the Bay, expanding internationally and across the nation. At the Palo Alto location, it is reserved for studying. While it is on the pricier side, the quality of the coffee makes up for it. Everything is hand brewed and you can have a variety of types of coffee. Be warned, it is a hot spot and busy!
Recommendations: New Orleans Iced Coffee, Avocado Toast, Japanese Koji Coffee, Waffle with compote
Dana Street Roasting Company
744 W Dana St, Mountain View, CA 94041
You're a classic and for a good reason. You don't care what others think about you, materialism and popularity are only temporary. "You do you" is your mantra and you strive for your own success.
Dana is the iconic Mountain View spot. While some argue that it is dingy and out of touch, it gives off a homey vibe and the price is reasonable compared to the trendier spots. It's an ideal place to stop and study or maybe just chat with your buddies. Grab breakfast on your way to school or maybe have a light lunch, either way, you'll feel right at home at Dana's.
Recommendations: Kick in the Pants (espresso with coffee), Almond Latte, Thai Coffee, Iced Mint Mocha, NY Cheesecake
Baron Barista
3990 El Camino Real Unit C, Palo Alto, CA 94306
You are young, new and ready for college. You already have pulled those all-nighters and you practically live in sweatpants. Despite this, you are a hard worker who has clear goals and is an unstoppable force. You are persistent and with the bonus of caffeine, people better watch out.
Baron Barista is relatively new but that means that fewer people know about it. While fairly expensive, the coffee is from the famous Sightglass roastery and all hand brewed in front of you. The cafe hits the mark on white wooden aesthetics with small plants to snap a few selfies when you take a break.
Recommendations: London Fog, Pour Over, Lavender Latte, Ricotta Toast with Honey/Jam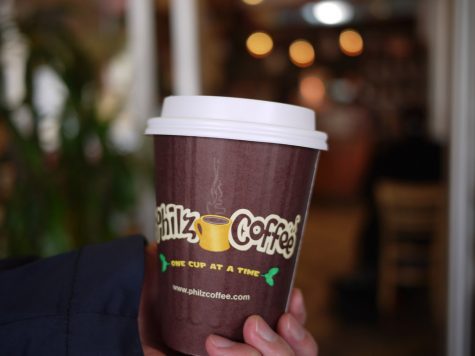 Flickr user kennejima
Philz Coffee
(multiple locations) 

3191 Middlefield Rd, Palo Alto, CA 94306, 

125 S Frances St, Sunnyvale, CA 94086, 

20686 Stevens Creek Blvd, Cupertino, CA 95014
You're adventurous and bold, unapologetic and funny. People love you for being you and your extroverted personality only attracts more people, like flies to honey. You are everybody's best friend and are extremely loyal to those you care about.
Philz is iconically known for their hand dripped coffee. While the lines can get long, if you get their early or late enough, you can avoid the crowd. Now with their new Philz app, you can order ahead and totally avoid the wait! The staff are especially friendly and accommodating so you know that there will always be a welcoming face for you.
Recommendations: Iced Oatmeal Cookie, Any blend but ask for cinnamon in the filter, Dancing Waters, Zucchini Bread

1 Oz Coffee
(multiple locations) 

650 Castro St Suite 130, Mountain View, CA 94041
You're introverted but that doesn't mean you're boring. You are independent and don't rely on others, partly because you're so talented and leave everybody behind in the dust. Your quiet demeanor can often be mistaken for shyness but when you talk, people listen.
1 OZ is relatively small and hard to study at but the community is especially welcoming and the pastries are absolutely to die for. The hot chocolate and matcha lattes are there for anybody who prefers to get their sugar/caffeine fix other than coffee.
Recommendations: Matcha Croissant, Latte (for the art)