Coach brings global perspective to boys soccer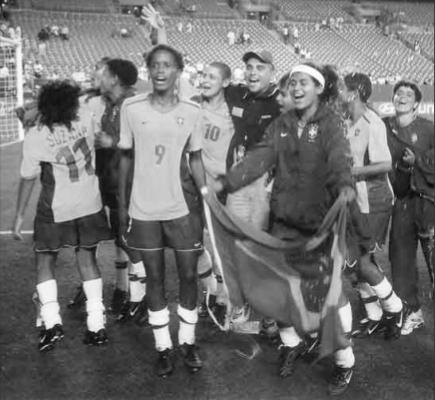 Head Coach Vava Marques (center)
was the official FIFA Liaison for the Brazilian Women's National Team during the Women's World Cup.
Boys varsity soccer Head Coach Vava Marques is not new to the soccer scene. In fact, the highly experienced 46-year-old has a list of credentials longer and more profound than most "Of Mice and Men" essays.
With over 40 years of experience in his hands, Marques has coached the team to maintain a winning record this year with 8-6 overall and 3-4 in the De Anza Division.
Growing up in Brazil, Marques was kicking a soccer ball from the moment he could stand up. After playing on the streets and for various teams, he entered the Brazilian minor leagues at the age of 16, soon turning professional at the age of 21.
Upon coming to the Bay Area, Marques played midfielder for the San Jose Earthquakes of Major League Soccer and has had numerous coaching projects since then.
Marques coached Foothill College for 13 years, coaches an MVLA boys' club team, and runs a futsal (indoor soccer) program for children on Sundays.
Currently, Marques is the Assistant Coach of the United States National Futsal Team.
Marques has also participated in three World Cups and one Pan American Games as FIFA Coordinator for the Brazilian Men's National Team in 1994 and as FIFA Liaison for the Brazilian Women's National Team in 1999.
He was the spokesperson for the Brazilian Women's National Team while they traveled around the United States.
With so much experience under his belt, Marques for many years has been coaching the school team in hopes of better contributing to his community.
"A lot of parents whose kids played club for me asked if I would coach Los Altos," Marques said. "This is the way for me to help my community. Los Altos is a home for me."
Whether he is competing in the World Cup or teaching elementary school children how to improve their game, Marques said he takes all his coaching opportunities seriously.
"I make sure the kids enjoy soccer … bring the passion out of them," Marques said.
The biggest part of Marques' coaching style is maintaining a strong "team mentality." Marques strives to make sure that "everyone helps on both sides of the game"—offense and defense.
"Vava is really straightforward as a coach," varsity soccer player senior Zack Winters said. "He calls out your mistakes, but then is also the first to help you improve them and commend you for good work."
Despite busying himself with coaching the school team, Marques finds the time to add a new coaching project to his list this year.
This is his first year as the assistant coach of the women's professional soccer club FC Gold Pride based in Santa Clara. As the assistant coach, Marques recently traveled to Philadelphia to attend the draft.
Juggling multiple serious coaching jobs and still managing to coach the local community, Marques truly establishes himself as a dedicated member of the community and an experienced soccer expert.
"I do it to be loyal to the community," Marques said. "In order to be the best player, you have to be a team player."
Leave a Comment