Classrooms and clipboards: teacher coaches at Los Altos
It's already hard enough for students to manage academics and sports at the same time. Being a teacher coach isn't any easier. The Talon recorded the stories of teacher coaches Robyn Hughes, Alexandra Wilson, and Darren Dressen, and explored why they decided to take on the challenge of coaching and teaching at the same time. Read on to learn more about their own athletic journeys, challenges and experiences.
Robyn Hughes
Robyn Hughes was always an exceptional runner. As a middle schooler, she ran faster than the high schoolers and as a high schooler, she ran faster than the collegiate runners. Now, at Los Altos, she not only teaches Spanish, but also coaches the 100 and 300-meter events and the 4 by 400-meter exchange as the assistant track coach.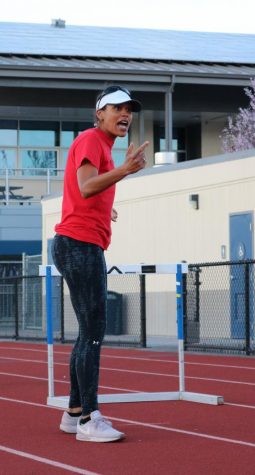 Hughes began training at the age of 10 and was coached by her father, a Hall of Fame runner. She earned a scholarship for Division 1 hurdling at Stanford University and trained around 20 hours a week. She then became head coach at Los Altos in 2007 but had to drop coaching after a year to focus on her child. Five years later, in 2012, she came back to coach track and has been an assistant coach ever since.
To learn how to coach, Hughes enrolled in the United States Track and Field level one program. The program taught her the scientific aspects of coaching that she didn't know about as an athlete, such as sports periodization and planned training cycles.
As a coach, Hughes also runs and trains with her athletes and gets a workout in the process. Though she gets nervous watching them compete, she still loves coaching her runners and seeing them improve and grow as athletes.
"It's gratifying to coach someone to succeed," Hughes said.
This year, Hughes' female runners hope to be league champions for the fourth year in a row and the boys hope to win the CCS championship. They also plan to take a bus down to Southern California for the state meet. For the past few years, they have had scheduling conflicts with graduation, so they are looking forward to competing at states this year.
Collectively, Hughes and the other track coaches' goals are to unify the team and establish stronger team dynamics. Though the meets are long—they usually last five hours or more—the coaches encourage athletes to put away their homework and to cheer on their teammates instead.
Coaching track isn't easy—to Hughes, the time commitment is equivalent to having two additional classes to teach. She is grateful that all the track coaches get along well and are extremely helpful and responsible. Through coaching, Hughes also gains a new perspective of her students and sees a different side of them outside the classroom. She enjoys watching them push themselves and discover the true extent of their abilities.
"Teaching kids that they can improve, watching their times drop and watching them work hard and do stuff that they didn't think they could do is so rewarding to watch," Hughes said.
Alexandra Wilson
Alexandra Wilson doesn't just help her students dive deep into science textbooks in her biology and environmental science classes. During the swimming and diving season in the spring, she can also be found on the deck of the swimming pool, watching, observing and conversing with a small handful of divers as the diving team's only coach.
In high school, Wilson participated in an eclectic mix of sports. She did diving in the fall, ran indoor track in the winter and outdoor track in the spring. She never participated in club diving; rather, Wilson discovered that her skills as a former gymnast transferred well into diving and developed a love for the sport. After high school, she was recruited to Massachusetts's Wheaton College Division 3 diving team, where she continued to dive competitively for four years.
After college diving, Wilson wanted to spread her love of diving and began coaching the sport. She spent four years as a head coach for the swimming and diving team at a high school in Massachusetts before transferring to Los Altos three years ago, where she began to coach diving here as well. However, when Wilson first transitioned from an athlete to a coach, she encountered many challenges.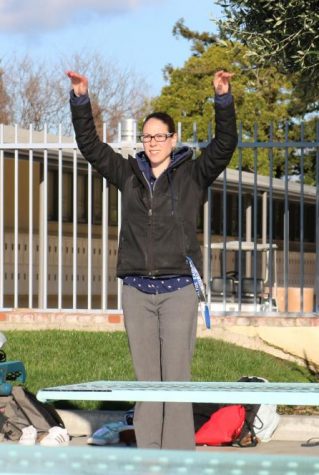 "When you're an athlete, you're used to being told how to do something or how to fix it and make it better," Wilson said. "And when you become a coach, you lose that piece of participating, which you really love. Now you're in charge of knowing everything."
Wilson said she used to feel stressed when she didn't know how to help fix a diver's problem. She decided to attend a clinic for diving coaches, where she learned that she wasn't supposed to know everything.
"You have to be willing to admit that you're not sure what they're doing wrong," Wilson said. "Work on it together and have it be more of a partnership with your athletes instead of trying to know everything, because you just can't."
Now, she coaches every day for a two hours after school. Sometimes, some of Wilson's students come to ask for help on assignments or to retake a test on the pool deck, where Wilson multitasks between coaching her divers and tutoring her students. Multitasking this way is difficult, but this year is much less stressful for Wilson, as she has a free seventh. For the past few years, Wilson had struggled with finding substitutes every time they had a diving competition, which occurred almost weekly in March and April.
"Things have improved since I started here, in terms of me being able to manage things, but it's just a lot of work," Wilson said. "You don't do it for the money."
Wilson loves coaching, especially since her divers choose to be there and are self-motivated. She would love to see her kids come back in the future and to see a bigger team in the next few years.
"It's so exciting. And they're so proud of themselves," Wilson said. "To see that is amazing. What I love most about coaching is working with those athletes and seeing them improve."
Darren Dressen
As a chemistry and ASI teacher, Darren Dressen usually can be seen decked out in a lab coat, busying himself with chemicals in his classroom and lab. All sides of his classroom are cluttered with lab equipment, and the whiteboard itself is messy with chemical equations and warm-up problems. Underneath all this, leaning against the wall, is a baseball bat, which, to some, may seem out of place in a science classroom.
Dressen grew up with baseball—his entire family consisted of baseball enthusiasts, and he began playing at the age of five. For the past 45 years, he had been involved with baseball as either an athlete or a coach and is now coaching varsity boys baseball alongside history teacher Gabriel Stewart and physical education teacher Bryan Edwards.
The transition from an athlete to a coach wasn't too challenging for Dressen. His past position as a Division 3 catcher at St. John's University has helped him develop the instincts to help manage the team, which he has been coaching for about five years.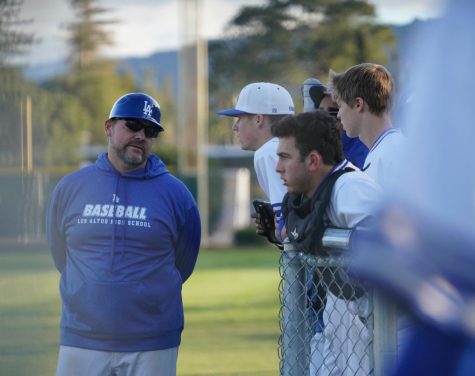 "Catchers are kind of like the quarterbacks of the football team," Dressen said. "You have to kind of make sure everybody knows what they're doing."
This year, Dressen and the baseball team hope to win the CCS championships again, as they had done last year. As a long-term goal, the baseball coaches hope to continue pushing the team to success and establish a consistency in each year's overall performance.
Now, Dressen juggles baseball and teaching, but it's not an easy task; they have practices every day. He continues to coach because he loves the sport and his team.
"It's nice to see students in a completely different environment," Dressen said. "I really enjoy the athletes I have in class and on the field. It's a different vibe."