Christian Club collects coats for homeless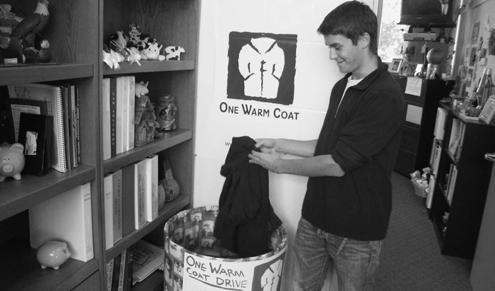 Senior Johan Mickos donates one of his old coats for the Christian Club's annual One Warm Coat Drive.
This year the Christian Club's One Warm Coat Drive is taking place from Wednesday, October 28 to Monday, November 23. The club will be accepting extra coats until the end of that week. Donation boxes are available in the attendance office, the library lobby and room 721.
"The purpose of the coat drive is to help provide downtown San Jose's homeless and needy with a warm coat and other winter care items," Christian Club President senior Heidi Boch said. "In the second weekend of December, Emmanuel Baptist Church will have its annual coat giveaway."
The club has held this drive every year and hopes to collect about 300 coats this winter.
"The drives in the past have gone very well," club co-founder junior Sherry Zhang said. "We have collected a lot of coats."
Normally the club collects around 20 to 30 coats geared toward the categories of men, women and children.
"Last year I heard about the drive on the announcements and donated a winter coat," junior Leo Funaki said. "At first I didn't think it was a big deal, but later I really felt good about myself."
However, the club has encountered some problems concerning donation items, such as coats and other items which are too damaged to reuse or require washing, though the club asks for clean coats.
Christian Club is counting on the generosity of students and teachers for the drive to be a success and is anticipating positive school participation.
"People are cooperative with the drive with collecting coats from the bins and then sorting them," Heidi said. "This coat drive would not be a success without the hard work of members of our club and the generous students and staff of Los Altos."
Leave a Comment