Choir Director Lauren Diez makes her debut at Los Altos
Christmas caroling is an annual tradition for Choir Director Lauren Diez and her family. As their voices meld together in rich, beautiful harmonies, they share not only the physical connection of singing but a mental and emotional one. This sense of togetherness is what drives Diez's passion for choral music.
Music has always been a strong presence in Diez's life as both of her grandparents performed in choirs. When her grandparents introduced music to her, she immersed herself in music-related activities.
"I was very fortunate to learn [to play the piano] from my grandmother and then participate in a church choir, community choirs and school choirs," Diez said. "Any chance I got to sing, I would take it."
The harmony and verve of choral music led Diez to start her musical career in the Church Mouse choir in Orange, California when she was a child. When Diez reached middle school, there was no established choir class; instead, she joined an extracurricular choir that met a few times a month. Diez found other ways to pursue her interest in music, taking voice lessons and participating in school musicals. In high school, she joined the choir program which served as a learning experience to further develop her singing skills.
During high school, Diez joined Honor Choirs where students join select ensembles that are led by well-known conductors. She got the opportunity to work alongside conductors she admired and, ultimately, realized that she wanted to work in the profession.
"All of my life experiences in choir made me feel like I was part of something bigger than myself," Diez said. "I've always known that [choir is] something that I love. When you're rehearsing or singing in a choir, you kind of forget about everything else, and it's a chance to focus and work with other people."
Diez majored in music education at the University of California, Los Angeles. She performed in many concert venues alongside freshmen and senior college students. This environment was more professional and advanced than in high school, so she learned a lot from her peers.
A couple of years ago, she taught general music in East Palo Alto and Los Gatos. Instead of performing choral music, she taught music history, singing techniques and instruments to elementary and middle school students.
"People have had the impression that we only do classical music [in choir], or [that] you have to be an experienced singer to be part of it," Diez said. " I'm hoping to dispel that myth and tell students that choir is the perfect place to learn. If you are experienced, it's also a perfect place for you because you can continue to build on those skills."
Diez is rebuilding the choir program at Los Altos in light of Mark Shaull's retirement. She is changing class festivals and concerts. Diez also hopes to revive the international concerts that the Mainstreet singers participated in in previous years.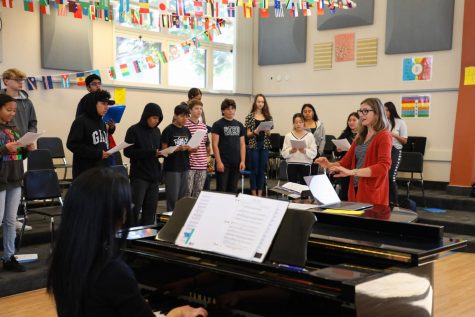 "I'm really interested in what students want to see in a choir program, what they're excited for and what kind of music they want to make," Diez said. "I'm going to be leaning on the students that are joining the program this year to help me shape the program. Students [will] have a great opportunity this year to be a part of new traditions and the future of the program."
Senior Elena Atluri has been part of the choir program since freshman year. She along with other students have helped Diez make alterations to the Los Altos choirs.
"Ms. Diez is awesome about taking student feedback into consideration," Elena said. "For example, she suggested several new names for the advanced choir and we picked Volare together. I've been unafraid to voice my opinions and Ms. Diez has accommodated them. As it is my last year in the choir program, I want to leave next year's class strong by working to make this year's group as good as it can be."
In an attempt to promote the program, Diez visited freshman English classes to give students more information on the choir program. She gave the classes a quick overview of the class and the benefits students get.
"I'm really dedicated to making this choir program something that more people want to be involved with something that really represents our school and the students at Los Altos," Diez said. "I'm excited to be here."
Any students that are interested in joining the choir are welcome to attend class periods three, four, five and six to get a sense of the class environment and workload.