Cheer team welcomes new coach after full year without leadership
Alexandra Perez is no stranger to taking on new hobbies and lifestyle changes. Over the last few months, her home and work lives have taken many unexpected turns: She refurbished her living room into a roller skating rink and took on the position of the newest cheer head coach.
Perez grew up playing soccer and basketball, while her sister was the cheerleader of the family. She decided to try out cheer in middle school and began competing at the end of high school. Perez attended De Anza College and received a Bachelor of Arts in Cinema and Television Arts degree from CSU Northridge while continuing to cheer.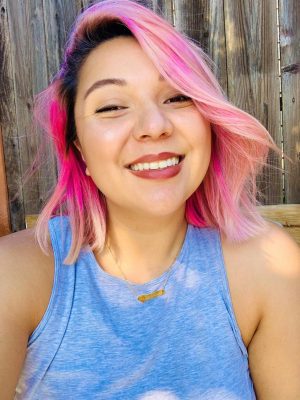 During her senior year of college, she attended the Worlds competition, where her team competed against teams from Brazil, Canada and Norway and placed fourth in their overall division. She noted that she changed her major several times before discovering her love for films and creative practices. 
"Not everyone's timeline is the same," Perez said. "Explore the path that feels right for you."
Perez currently works as a videographer and editor for a popular YouTube channel and has been coaching at Nor Cal Elite, the gym she first began cheering at 11 years ago. In a normal year, Perez often travels for work productions and throughout the years, regardless of location or job, Perez said she has always coached cheer on the side. 
The Los Altos High School coaching opportunity came about when a student reached out to Perez at Nor Cal Elite. The student was interested in beginning cheer, but the Eagles were lacking a coach. Upon hearing about the open position, Perez jumped at the opportunity to apply.
"After meeting Principal Wynne Satterwhite and Athletic Director Michelle Noeth, I felt so excited for the program and encouraged by the school that I knew I wanted to be a part of it," Perez said. "Finding kind, genuine people isn't always easy, so when you find it, you hold on to it."
Perez hopes to share her passion for the sport and her 15 years of experience with her athletes. Perez plans to emphasize her commitment to building — building confidence, building skills and building friendships. 
"I believe in educating my athletes in all things cheer so they have the confidence and abilities to address, correct and progress in any situation they find themselves in," Perez said. "That's a skillset I believe easily carries into our everyday lives which helps my athletes make smart, thought-out decisions."
Perez noted that although the pandemic limits some aspects of cheer, such as huddling together and performing collaborative cheer stunts, the team is still able to find other ways to improve their abilities as a whole.
"My goal this year is to have every athlete end the year stronger than they started, whether that be physical or mental," Perez said. "I want each athlete to end the year feeling confident in their abilities."
Leave a Comment