Cheer – coach Brandon Gilchrist
May 7, 2020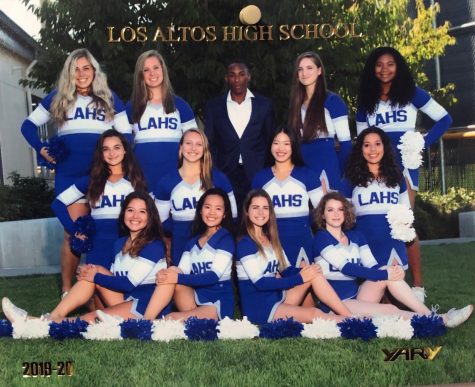 The varsity cheer team continues to spread spirit around the school and sporting events with new head coach Brandon Gilchrist inspiring students with his infectious positivity. Gilchrist is currently balancing cheer coaching with his full-time job of event planning for a global corporation.
Gilchrist has been coaching at All-Star Cheer since 2014, so he is not new to the coaching world. Since age seven, he has cheered competitively for All-Star, cheered for his high school and college teams and won various competitions ranging from States to Nationals to Regionals.
As soon as he saw the advertisement for the Los Altos High School Head Cheer Coach position, he took the chance and applied. Gilchrist came into the job with boundless spirit and excitement for the upcoming cheer season. He is glad to bring the experience he has under his belt to the team and continue his love for cheer by coaching the Eagles.
"I've always loved high school cheer more than competitive cheer, for different reasons," Gilchrist said. "It's more school spirited, it's a lot more well-rounded and you learn a lot more as a high school cheerleader than a competitive cheerleader. So, there was a need for it, I took a chance and applied and I got it."
With his recent move from the East Coast to California last January, Gilchrist has had to adjust to his new lifestyle.
"I think what has been a challenge is just being new and not knowing how cheer is in California," Gilchrist said. "It's a lot different than the East Coast where I'm from, where I cheered at."
Although there are inevitable challenges that come with moving to a new place and getting to know a new team, Gilchrist has been able to forge solid relationships with the girls and build a strong team dynamic. For the upcoming seasons, he hopes to get the team to build more school spirit around the campus and the Los Altos community.
"I want the team to get more involved with the school in the sense of helping spread that camaraderie amongst the students in the school, helping build every athletic team and boost their energy, getting the student body involved and getting people out to games and supporting the school," Gilchrist said.
Gilchrist's new addition to the team has been an adjustment for both the cheerleaders as for him as well. The team has changed techniques, performed more complex stunts, and gotten closer together.
"This season has been a very different experience for a lot of us who were on the team last year, but it has also been very cool to see the different way he coaches and how our team has improved because of it!" Junior Sophia Hurst said.