Catherine McGrath (Sugar Plum Fairy)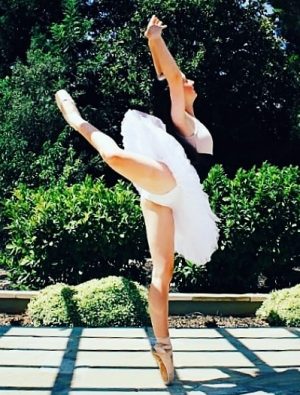 Senior Catherine McGrath's decade-long dance career started in second grade, dancing in the living room with her mom and her friends.
"My mom is definitely the reason I started dancing," Catherine said. "She did ballet when she was younger, and she had these little classes for my friends and me at our house."
In the eyes of Catherine's second-grade-self, her mother was, as most mothers are, a luminary. The passion and joy that she put into teaching dance imbibed Catherine with the inspiration she needed to continue a lifelong journey.
"She always had so much fun when she was teaching our classes, and she would always encourage me," Catherine said. "She puts in a lot of time, too, and it's really fun for both of us."
This year, Catherine is playing the iconic role of the Sugar Plum Fairy in "The Nutcracker" for the first time, among other roles. As this is one of the most technically challenging roles in the ballet, Catherine feels like she has big shoes to fill.
"When I was little I always looked up to the people who played the [Sugar Plum Fairy]," Catherine said. "It's a lot to live up to, because several of my teachers and older mentors whom I was friends with have danced the role, but I'm really excited."
Although she is going off to college next year, she doesn't plan on letting go of dance any time soon. One route for this is teaching: Though she was unsuccessful in convincing her younger brother to join her, she found fulfillment in teaching other younger students the basics of ballet.
"I used to help out with classes a lot when I was younger," Catherine said. "It's definitely fun to be around the kids and see them trying to learn things that seem so simple to me. It's just really fun to see how they look up to us as teachers. We're what they're striving for."